As a small business owner, I love finding out what inspired other people to turn their own passions and interests into something more.
For today's bride, taking calligraphy and watercolour courses to enable her to create the stationery and decor for her wedding was the start of something new, as it evolved into her own stationery business.
Through The Woods We Ran

+ Follow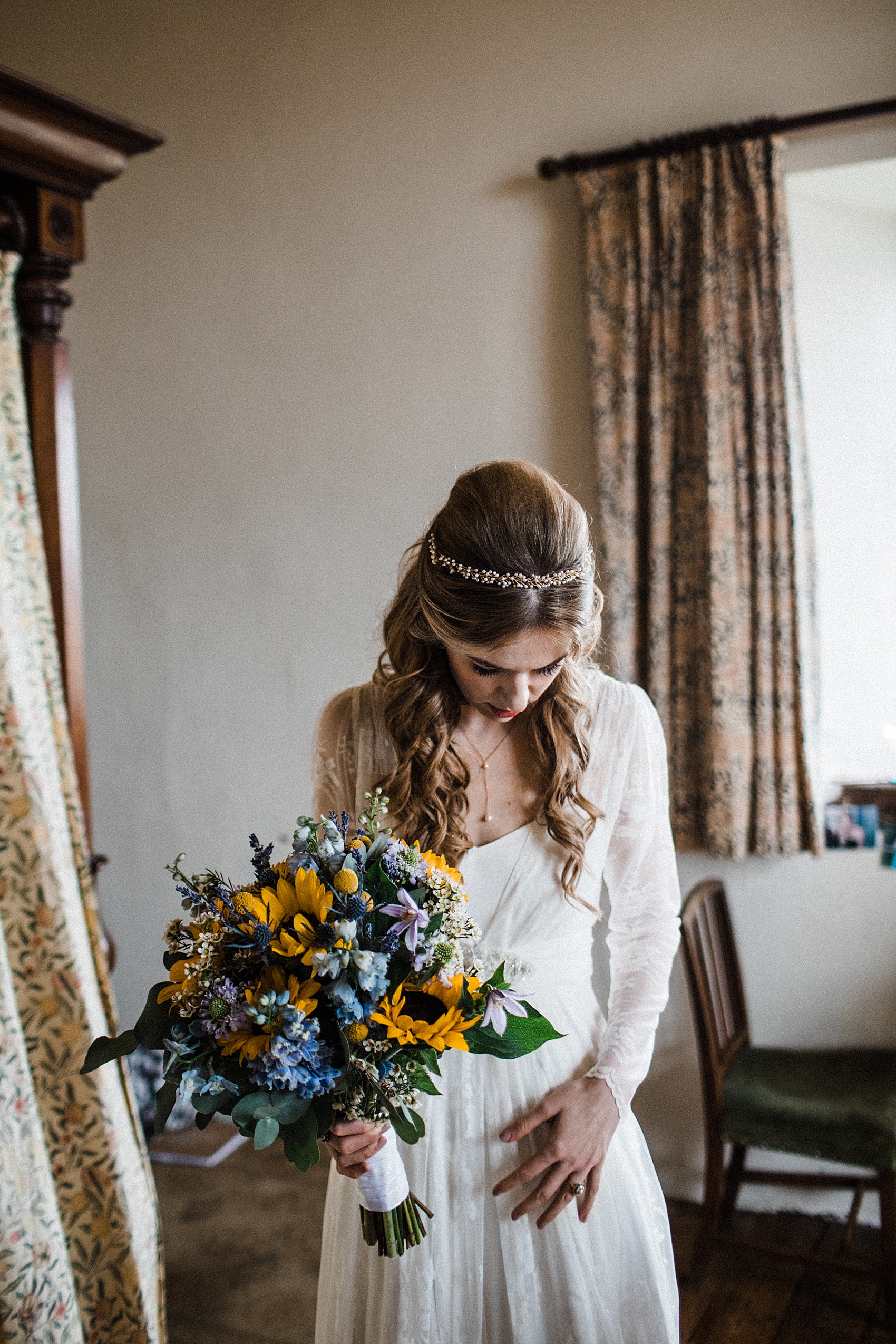 Treowen, a Grade I listed manor house set in the rolling countryside of Monmouth, was the venue for the weekend wedding celebration of Daniella, who works in PR, and Paul, who runs a marketing agency, on 7 April, After a small legal ceremony on 31 March, for the couple, it was important that this day truly reflected 'them'.
They wove creative, crafty allusions to lettering, calligraphy and words throughout their elegant styling, which perfectly complemented the venue's history and architecture – just two of the aspects which drew them to Treowen.
"We live in London but our family are scattered everywhere from Cardiff to Sheffield to Dorset, so there wasn't one easy option. We wanted to find a venue close enough for Paul's grandparents to attend, but also wanted a dry hire venue so we could bring our own drinks and really make the venue our own."
"I'm a big history geek so couldn't resist the 17th century venue – complete with priest hole. Treowen had a host of bedrooms so we could hire the place for the whole week, which extended the wedding weekend and meant we could spend the days after relaxing with family and friends."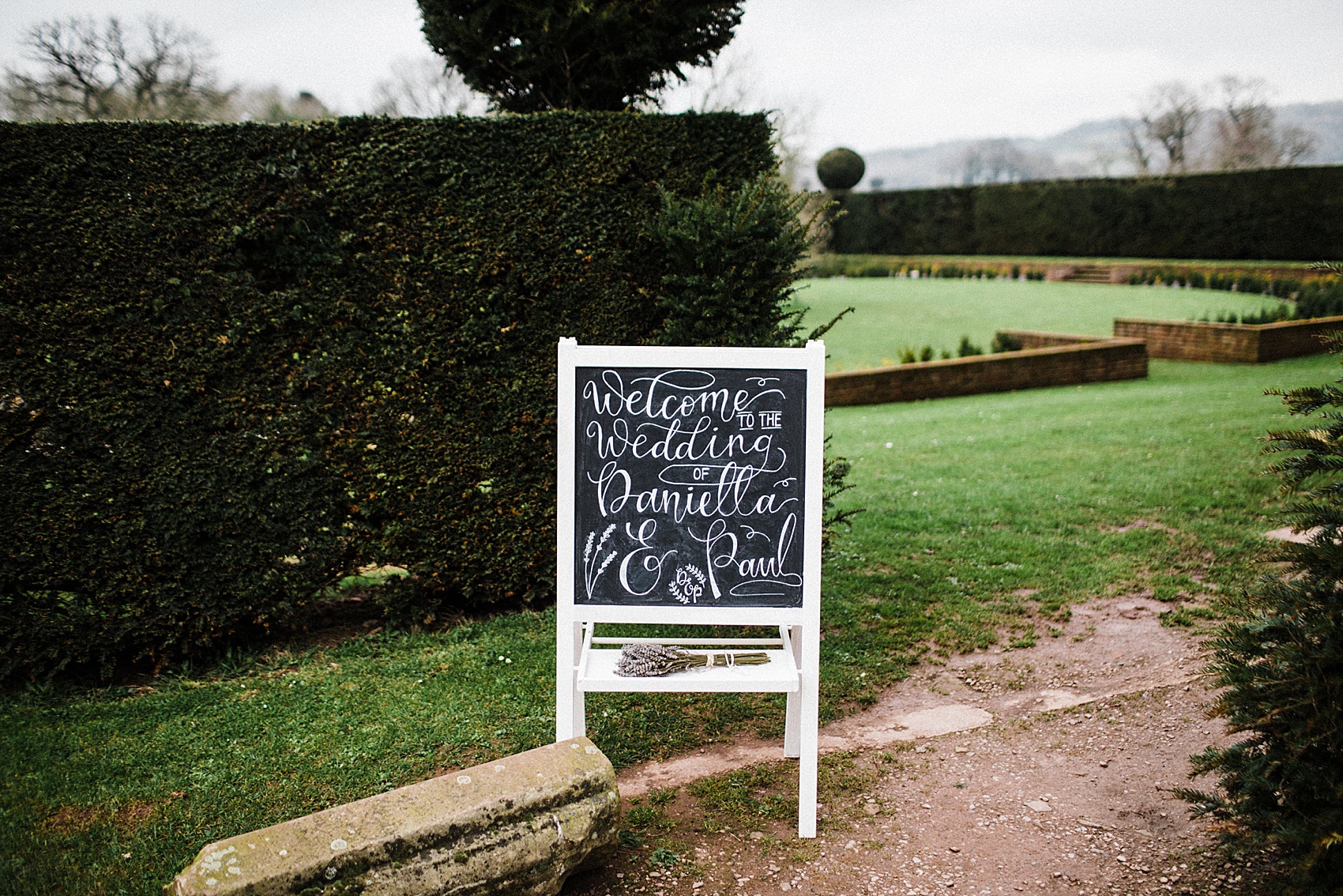 "Treowen was perfect for the day. We had our ceremony upstairs in the upstairs drawing room, our reception in the banqueting hall, snacks and drinks in the dining room, while the oak room (complete with roaring fire) offered a quiet place for guests to relax."
"It was a beautiful house, but we were also able to put our own stamp on it with our own decorations."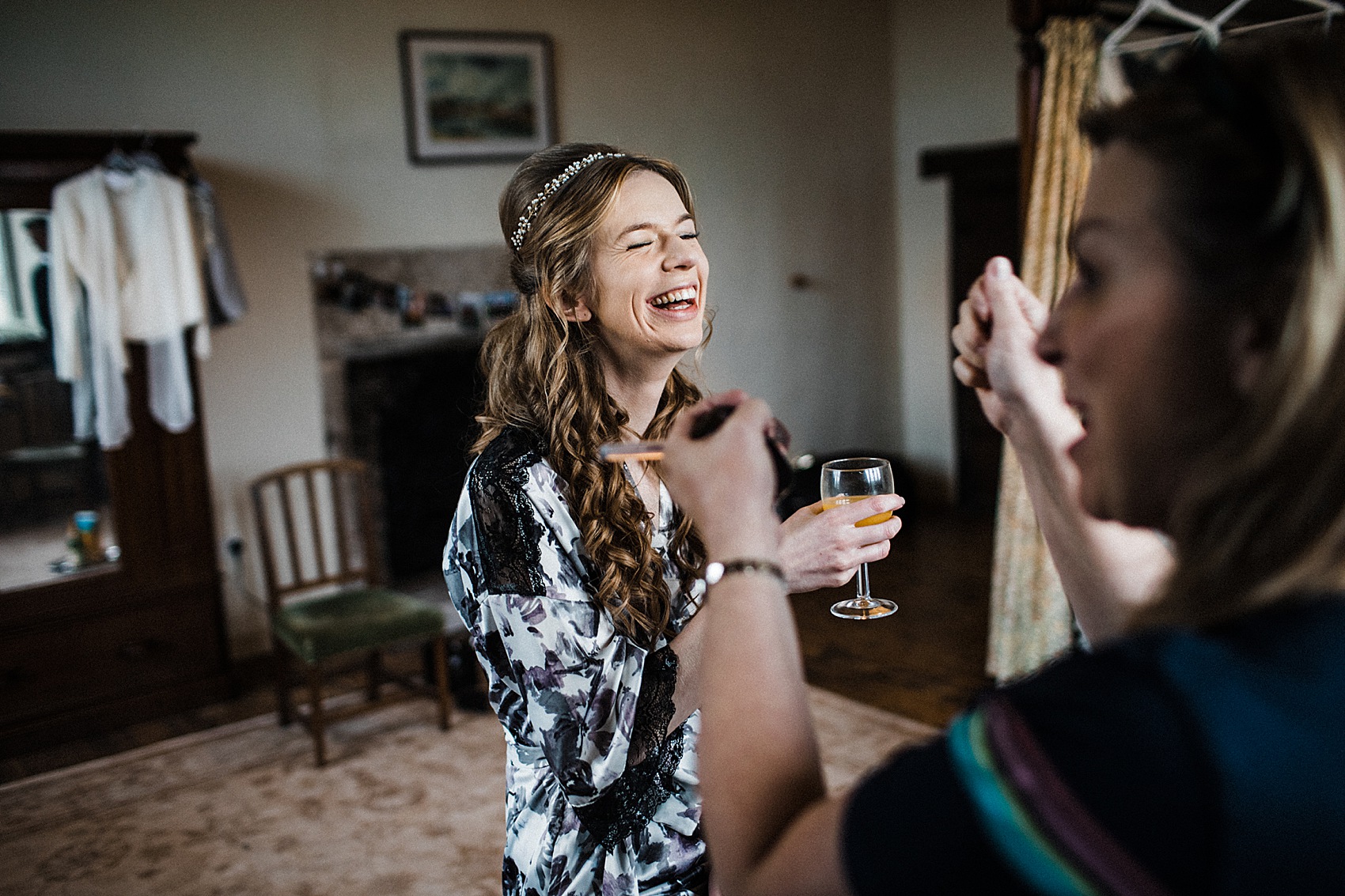 Dressed in a delicate, flowing pure white gown from Charlie Brear at Ellie Sanderson Bridal Studio, I love Daniella's ethereal and graceful look. With a light, lacy over-layer for day and a sparkling, beaded cape for night, it's bridal, elegant and totally fun as well.
"Charlie Brear dresses had caught my eye when looking at Love My Dress and other wedding blogs, so when one of my bridesmaids offered to book me an appointment at a Charlie Brear designer day shortly after we got engaged I jumped at the chance."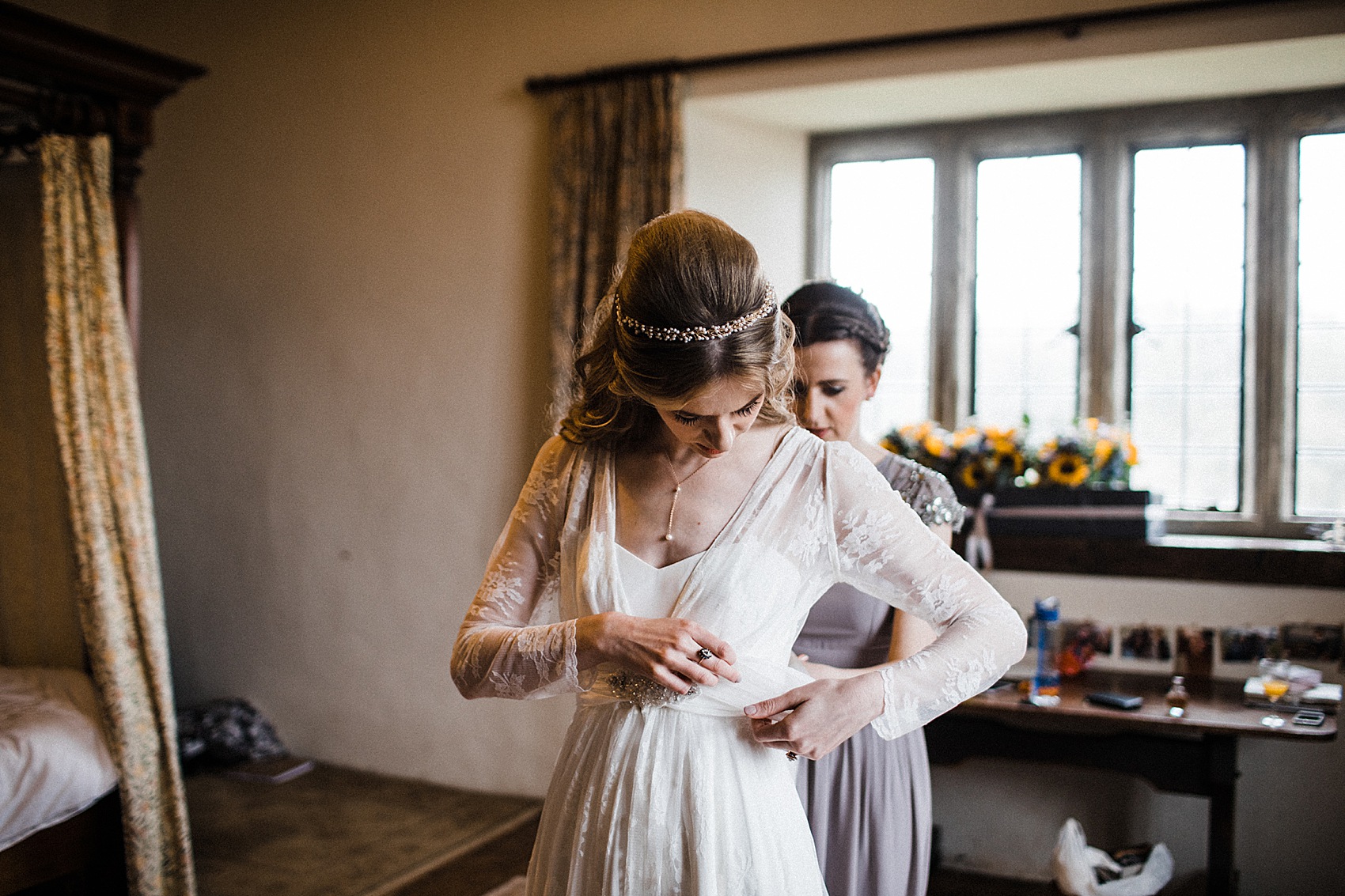 "I'd only intended to try a few on and get a feel for what I liked but got a bit carried away and ordered it on the spot. I'd always pictured having something with a bit of a vintage feel, but was also drawn to the fact I could have two different looks."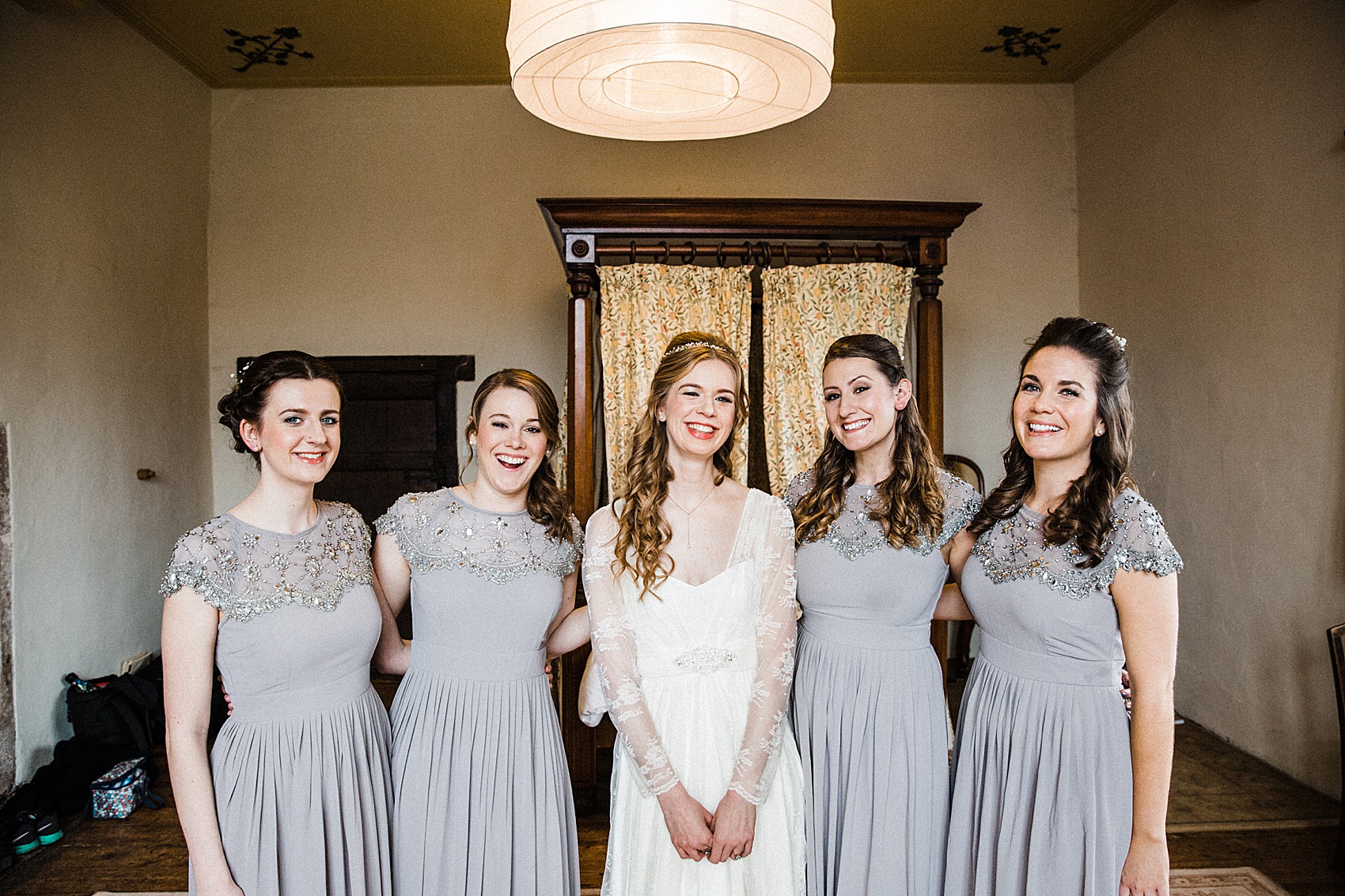 "My dress was in two parts – a simple, strappy dress and a lace top layer with long sleeves. I wore the full dress for the ceremony, food and speeches, then accessorised the dress with a beaded cape for the evening."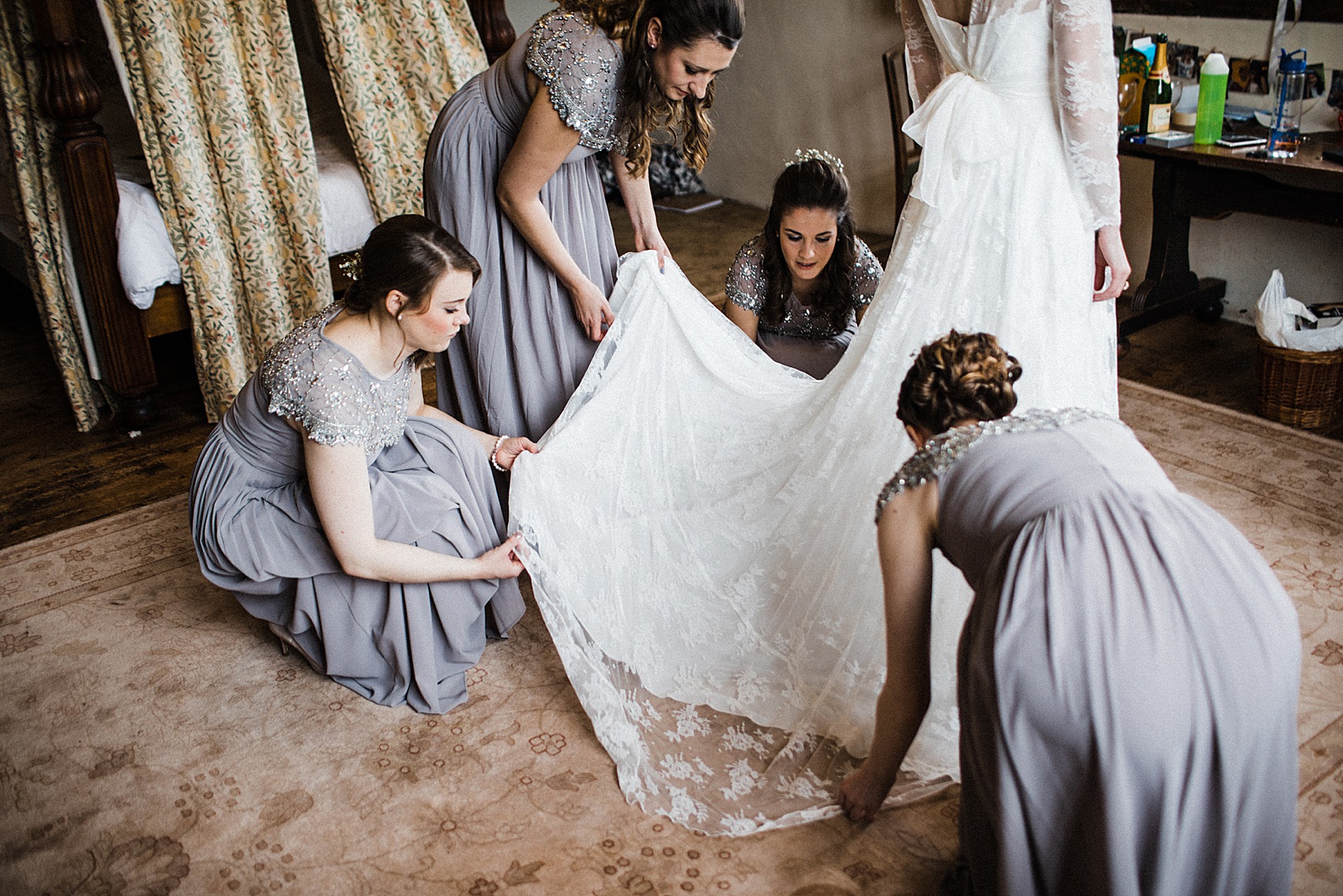 She added ballet flats by Stuart Weitzman and, instead of a veil, made an intricate headpiece from Britten Weddings the highlight of her hair. It looks so lovely wrapped around her cool beehive which flowed down in romantic curls, styled by Janet White-Ashby & Co, with her make-up flawlessly applied by Beth Price Make-up Artist.
"I wanted to keep it fairly simple and opted not to have a veil, but after seeing Britten Weddings on Love My Dress I decided to get a hair vine."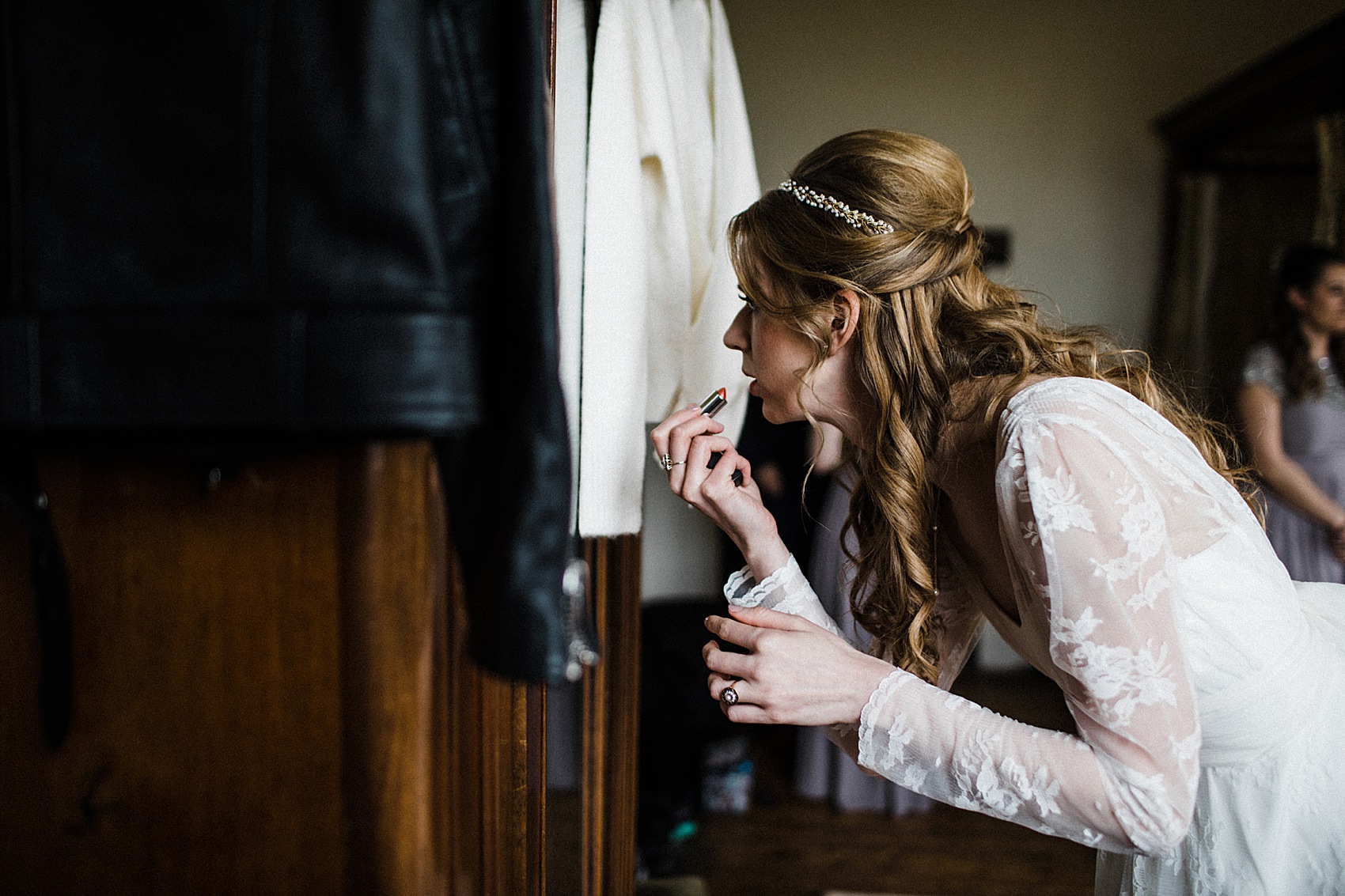 A gorgeous splash of spring colour came from the sunny yellow daffodils and sunflowers of the bouquets, with delicate touches of lavender. They look wonderful against the lavender and white of the girls' gowns, as well as the old stone of Treowen and were put together by Catherine Gray Flowers.
"Daffodils represented the Welsh contingent, lavender was a nod to my late grandma and we had sunflowers because I've always loved them and we used to grow them in the garden when I was little."
"We didn't want to spend a fortune on flowers so tried to be efficient. We had a lot of dried lavender and daffodils around the venue, with a few bouquets of sunflowers which we moved from the ceremony room to the reception room."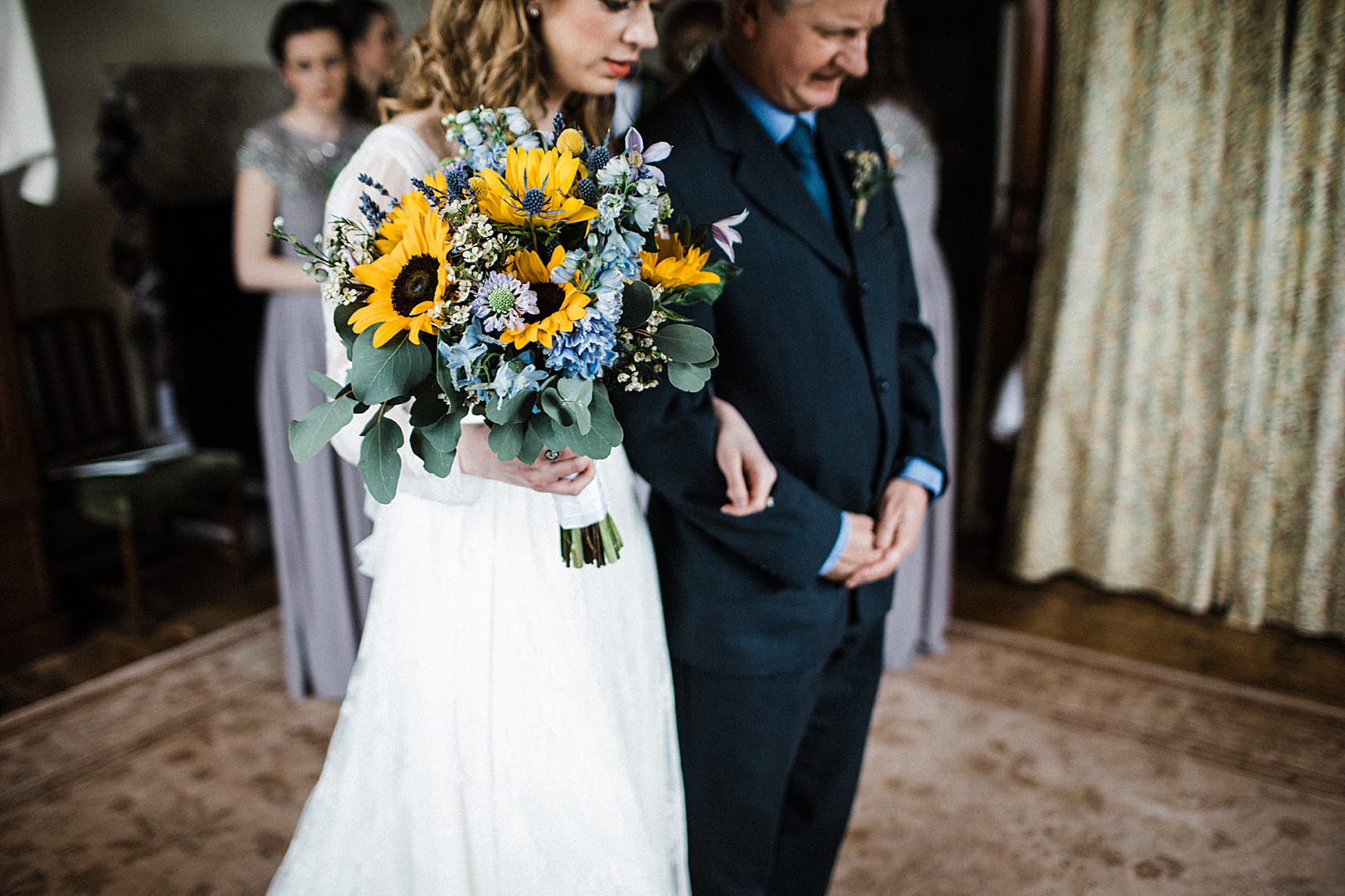 After meeting whilst working on the student newspaper together at Cardiff University, Daniella and Paul were friends for years before finally getting together, a few months after graduation.
"We were both living and working in London. Paul proposed just after we'd moved into our new house in October 2016, enlisting the help of the Nightingale Dogs – therapy dogs who I knew as they used to visit my late Grandma in her nursing home. I came home to find the dogs all lined up, wearing faux flowers and bow ties, with one pushing a trolley with a ring in it."
"Without realising, Paul had proposed on my late granddad's birthday, which felt like a bit of a sign so we decided to get married on my grandparents' wedding date – March 31st. Planning a wedding in five months felt like too daunting a prospect, so we ended up being engaged for a year and a half."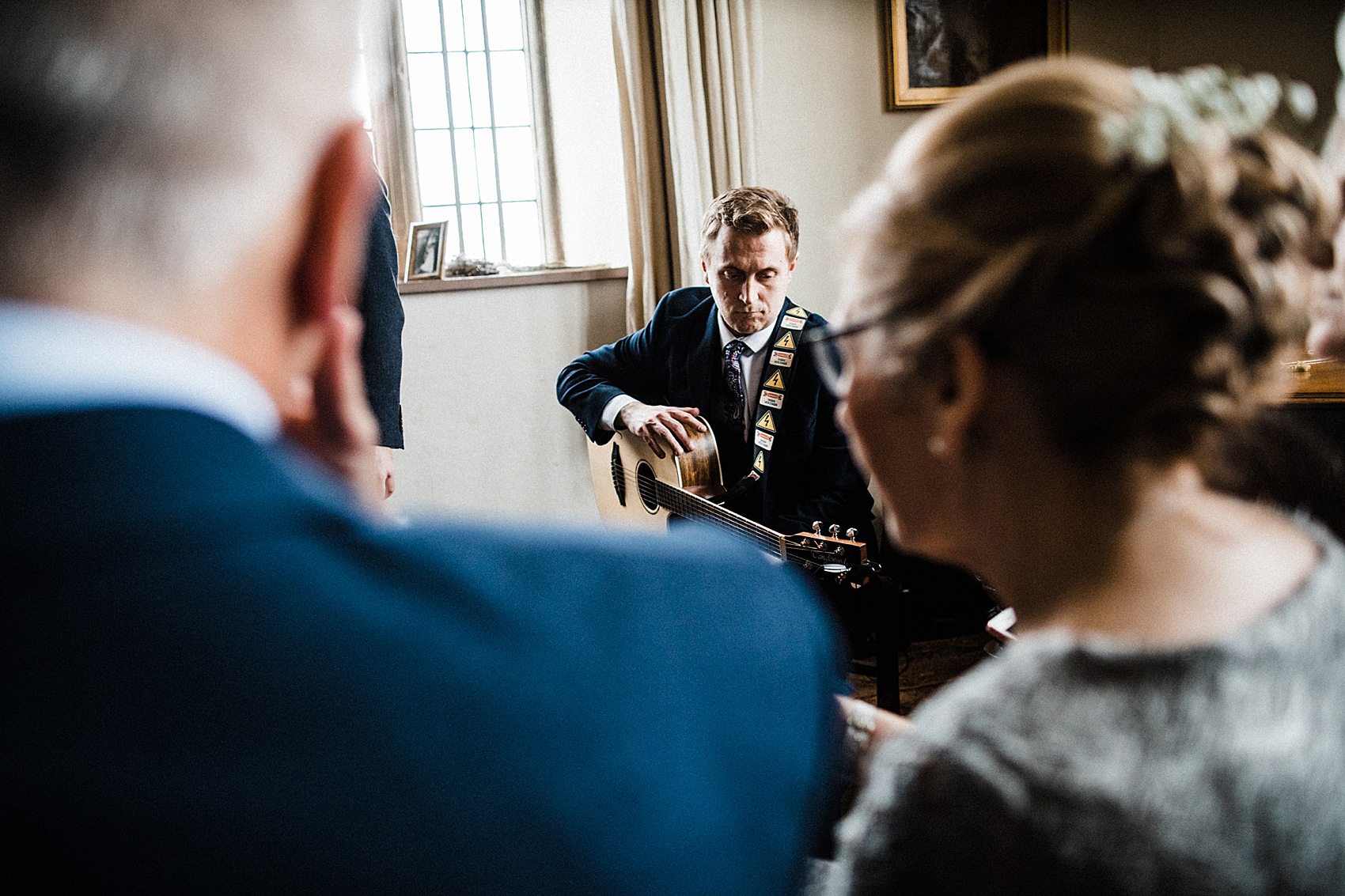 Daniella's bridesmaids dressed in floor-length lavender gowns with a touch of vintage-inspired embellishment, purchased from TFNC at ASOS whilst the groom wore a super-smart three-piece suit in deep navy from Dyfed Menswear along with a quirky Etsy bow-tie.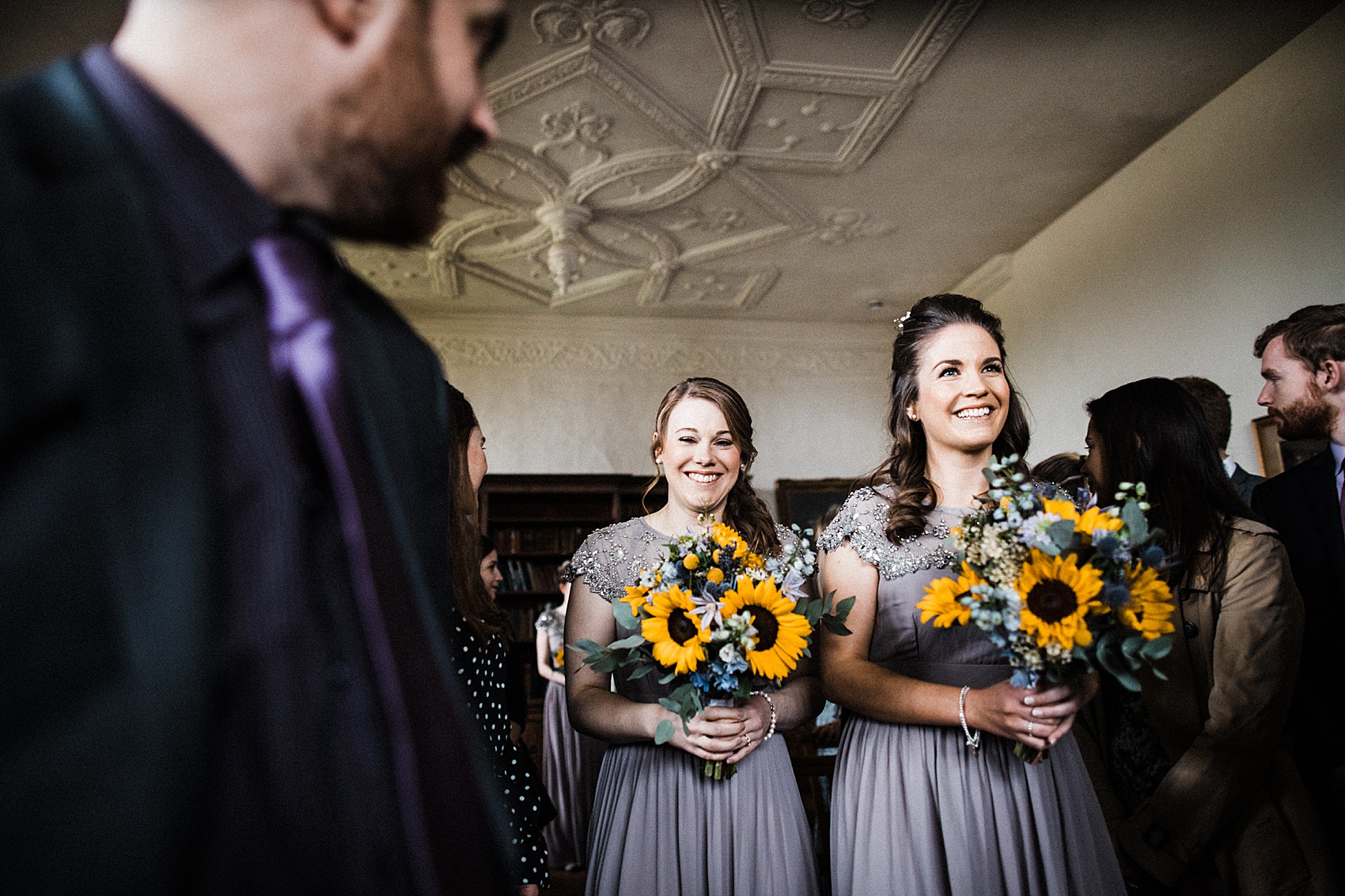 The couple asked their close friend Oli, who was also Paul's groomsman, to act as their celebrant and together they put together a truly personal ceremony.
"I was very adamant that I wasn't being 'given away', but I did have my dad accompany me down the aisle to an acoustic version of Beirut's 'Scenic World', played by Rhys Thomas, the husband of Paul's cousin."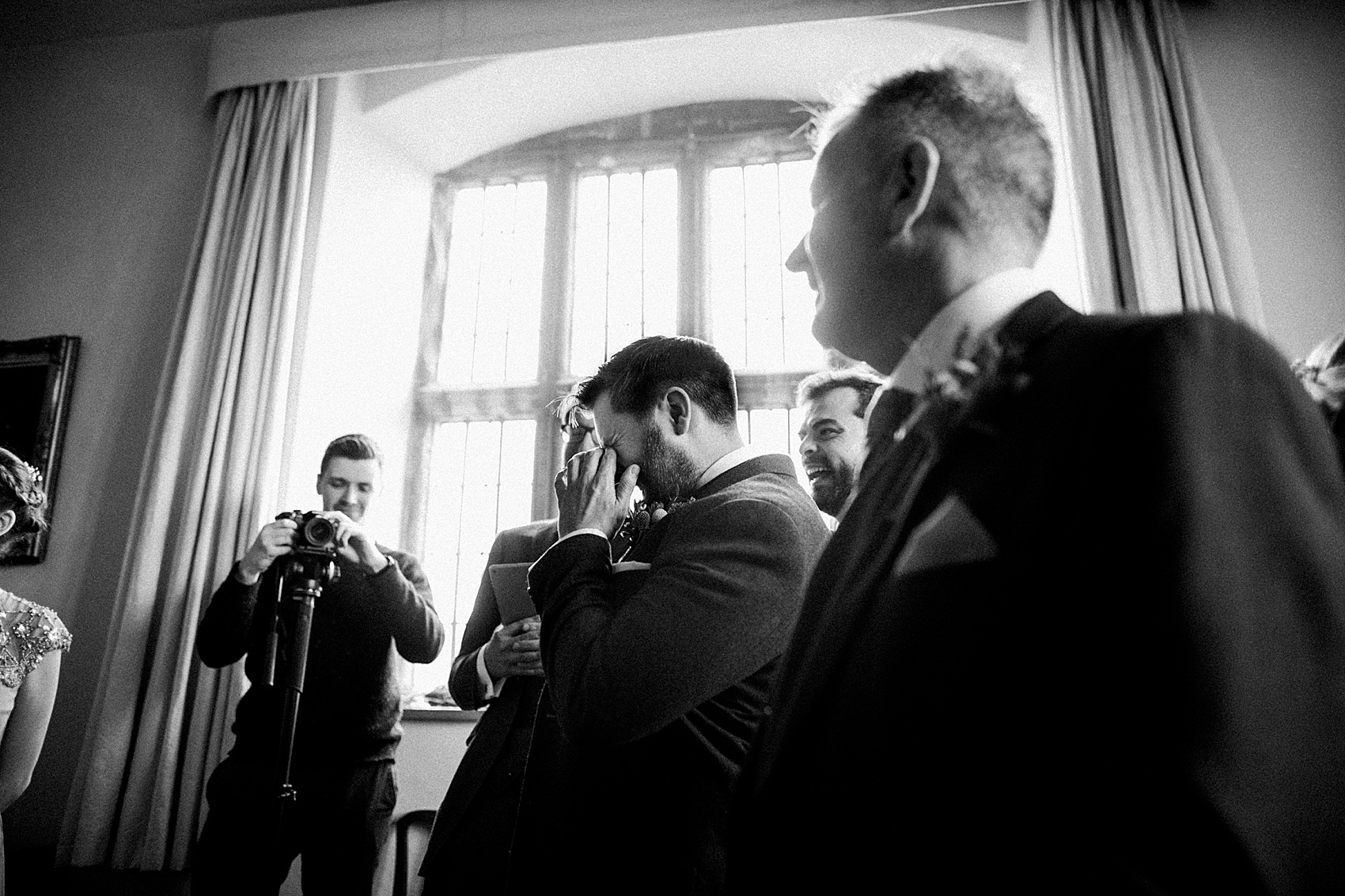 "As I walked down the aisle, Paul's granddad, always known for his sense of humour, shouted, "You'll be sorry!" at me. For a moment, there were a few shocked faces, with some thinking I was being heckled, before we all burst out laughing. Any pre-wedding nerves went out of the window as I laughed down the aisle."
"It was also Paul's granddad's birthday the same weekend, so we got all of our friends and family to sing happy birthday during the speeches. Sadly, he died a few months after the wedding, so we're even more grateful for these special memories."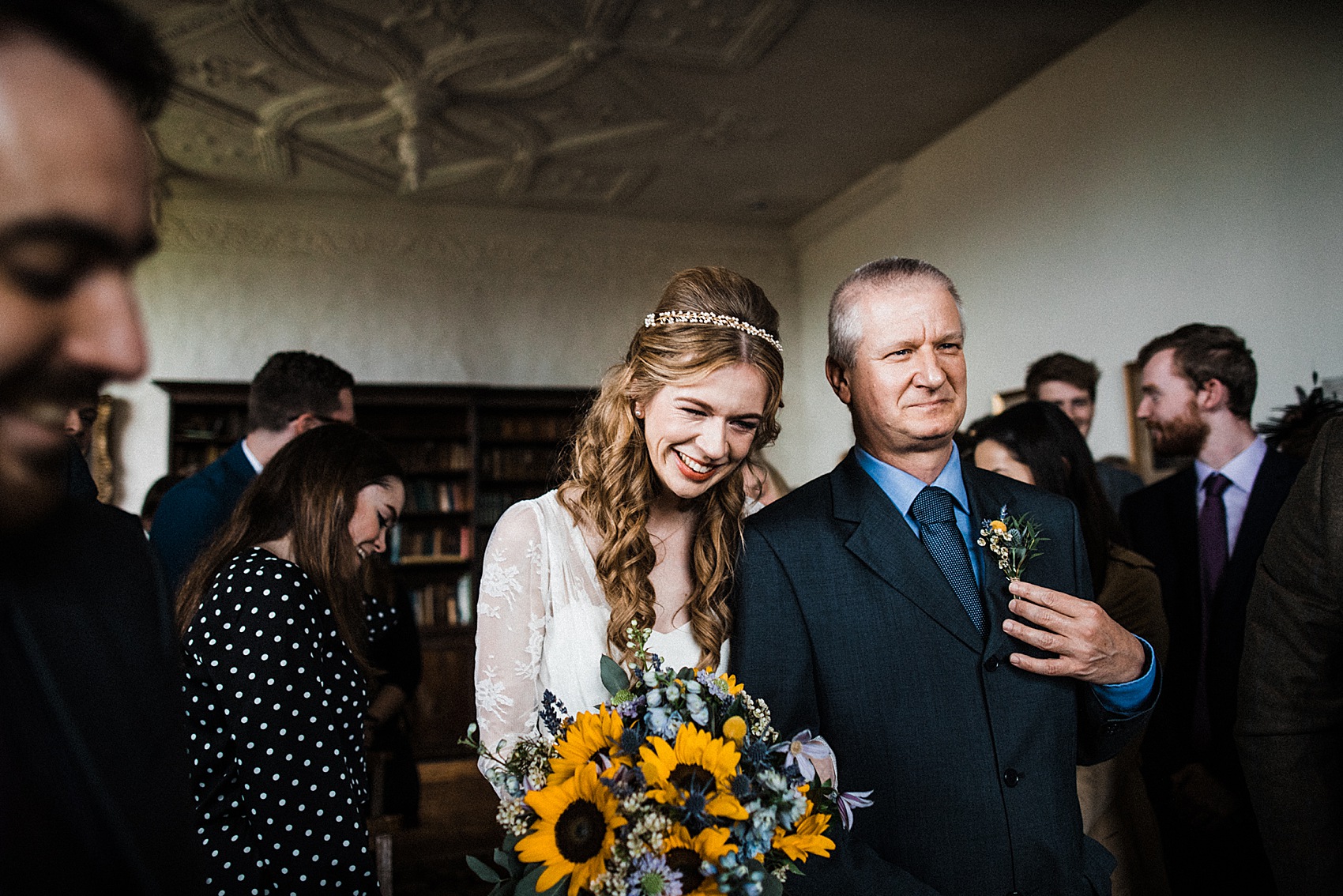 "Oli did an amazing job and it made it feel that much more special to have someone who has known us throughout our relationship conducting the ceremony. We tried to keep our vows simple and not too far removed from the traditional vows – as we were both making speeches we didn't need to say too much during the ceremony."
"We did include a nod to one of our favourite shows, with the line 'I love you and I like you' from Ben and Leslie's wedding in 'Parks and Recreation'."
"My mum read 'The Wonders of Today' by Larry S. Chengges and Paul's mum read 'May You Always' by Alexander McCall Smith."
"We struggled a bit to find readings, partly because we had been to so many weddings in the past couple of years and also because it was a struggle to find something that wasn't too sickly. After much scouring of the internet, we actually found both readings after I posted a plea for help on the Love My Dress Facebook group."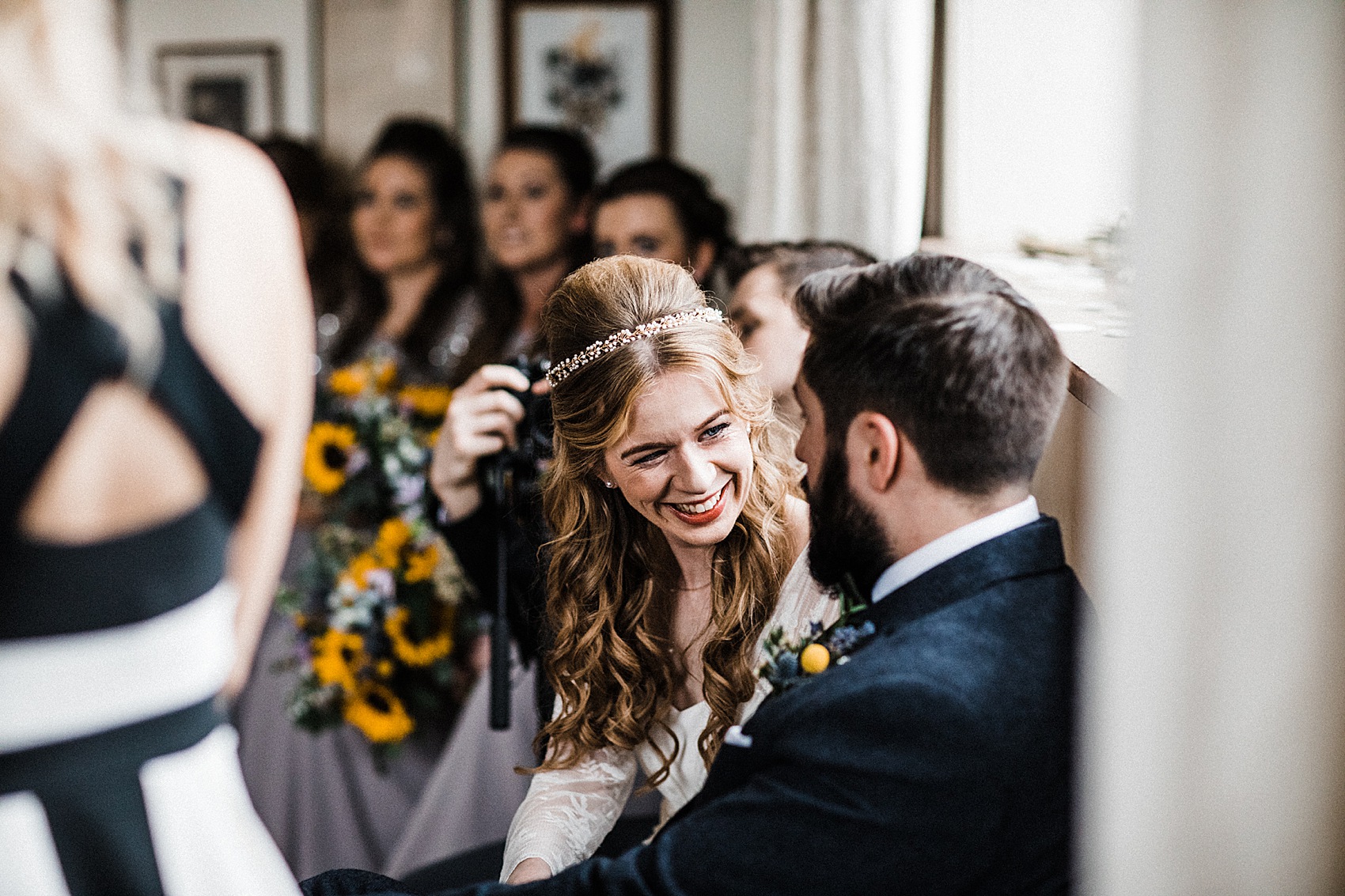 "I was particularly grateful to Mairi, who sent me the full text for 'May You Always'. It has some lovely lines, and I particularly liked that it was one of the few readings that conceded that marriage isn't always sunshine and rainbows."
If you aren't already a member of our private Love My Dress Facebook Group we'd love to have you join here. As Daniella mentions, it's a welcoming and super-helpful group who are so willing to share advice and stories just when you need it most.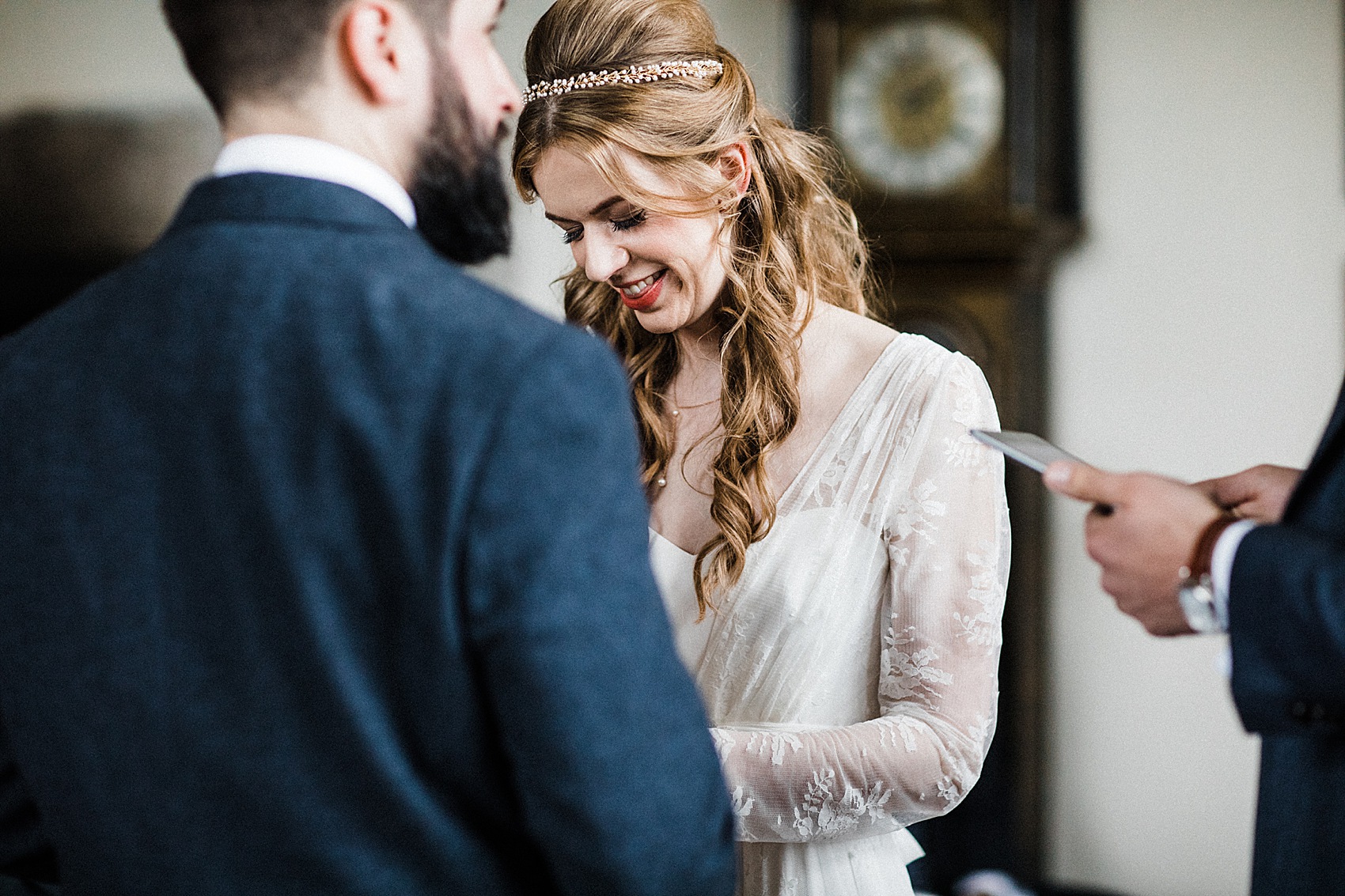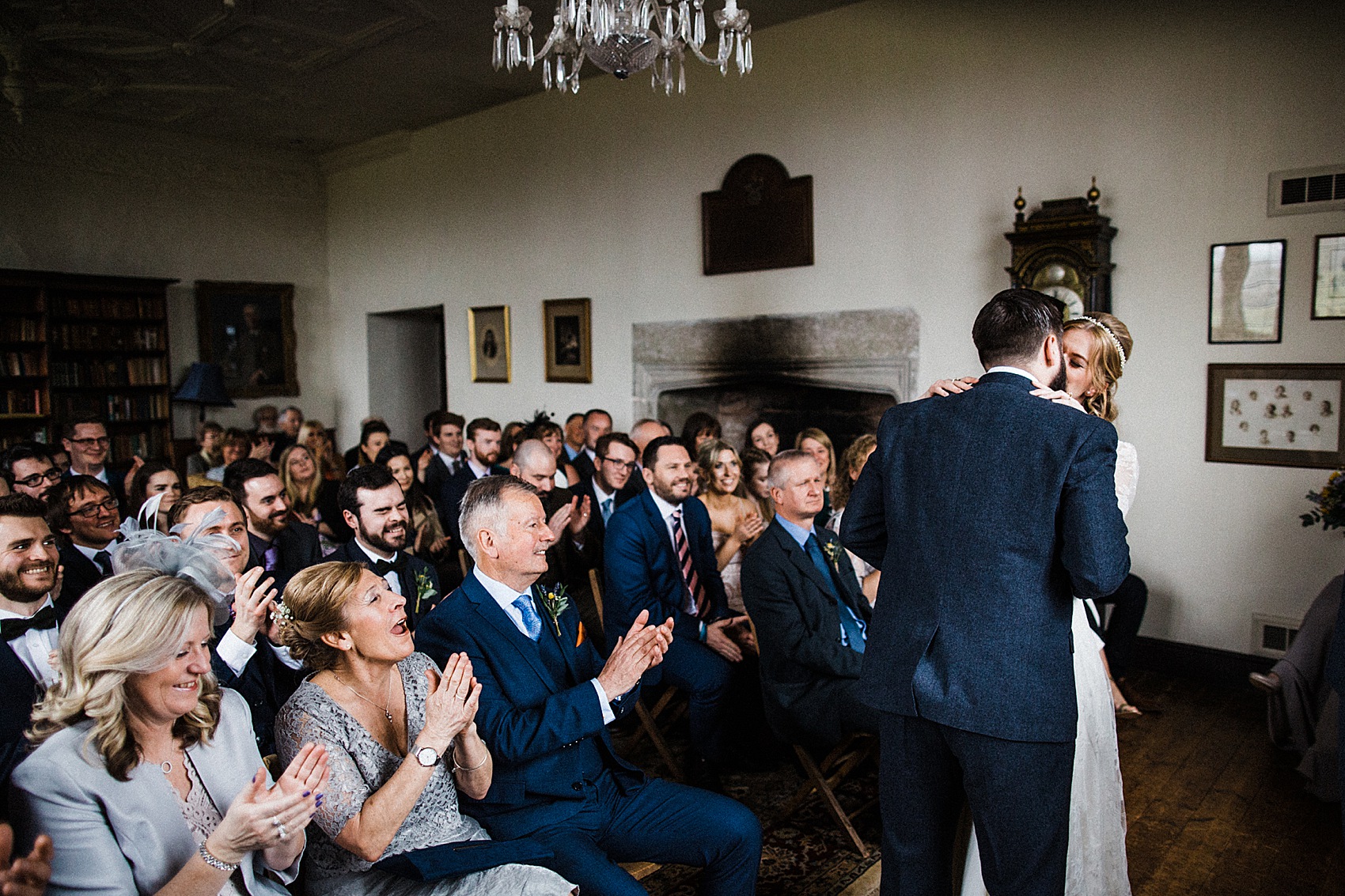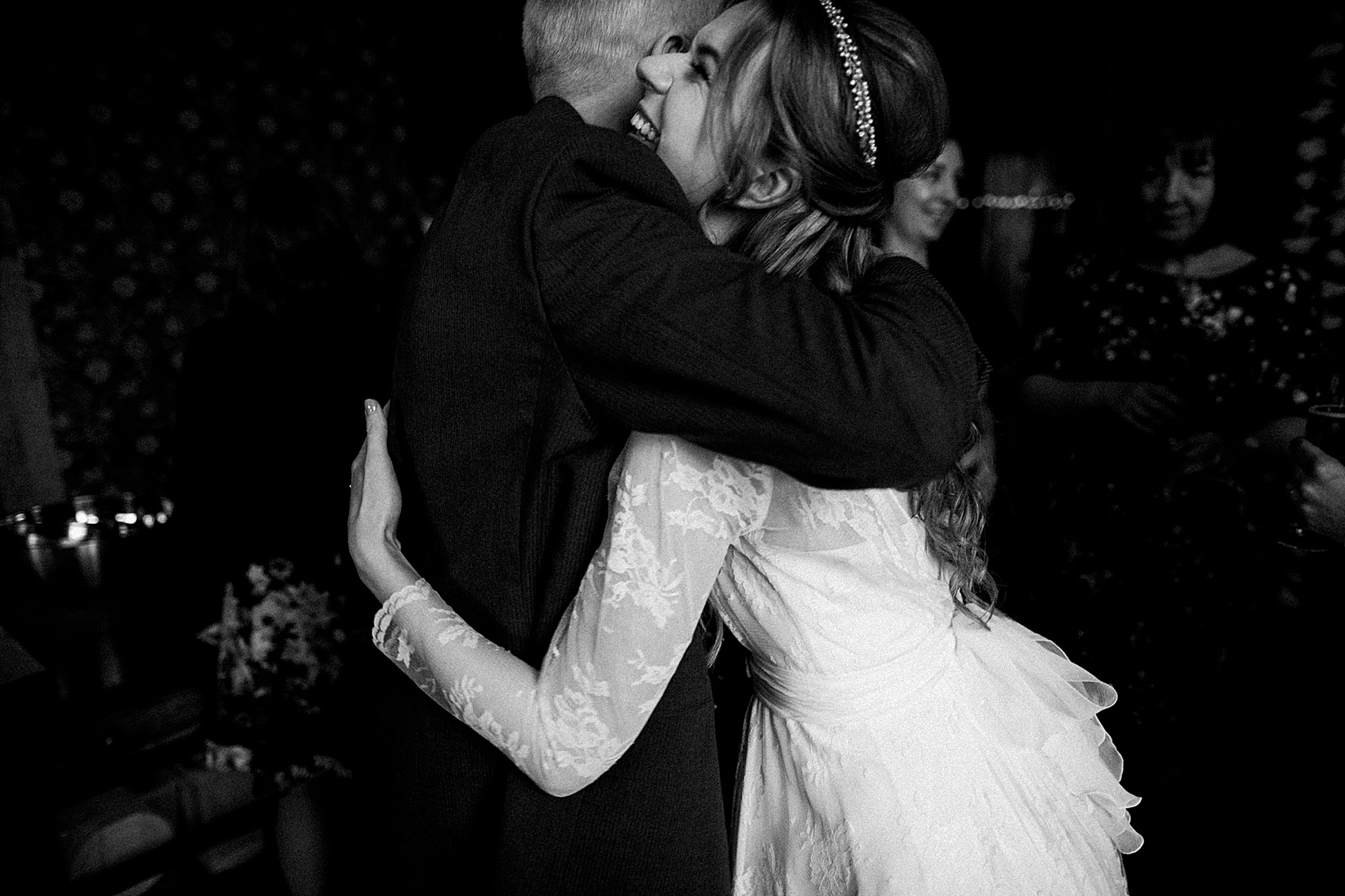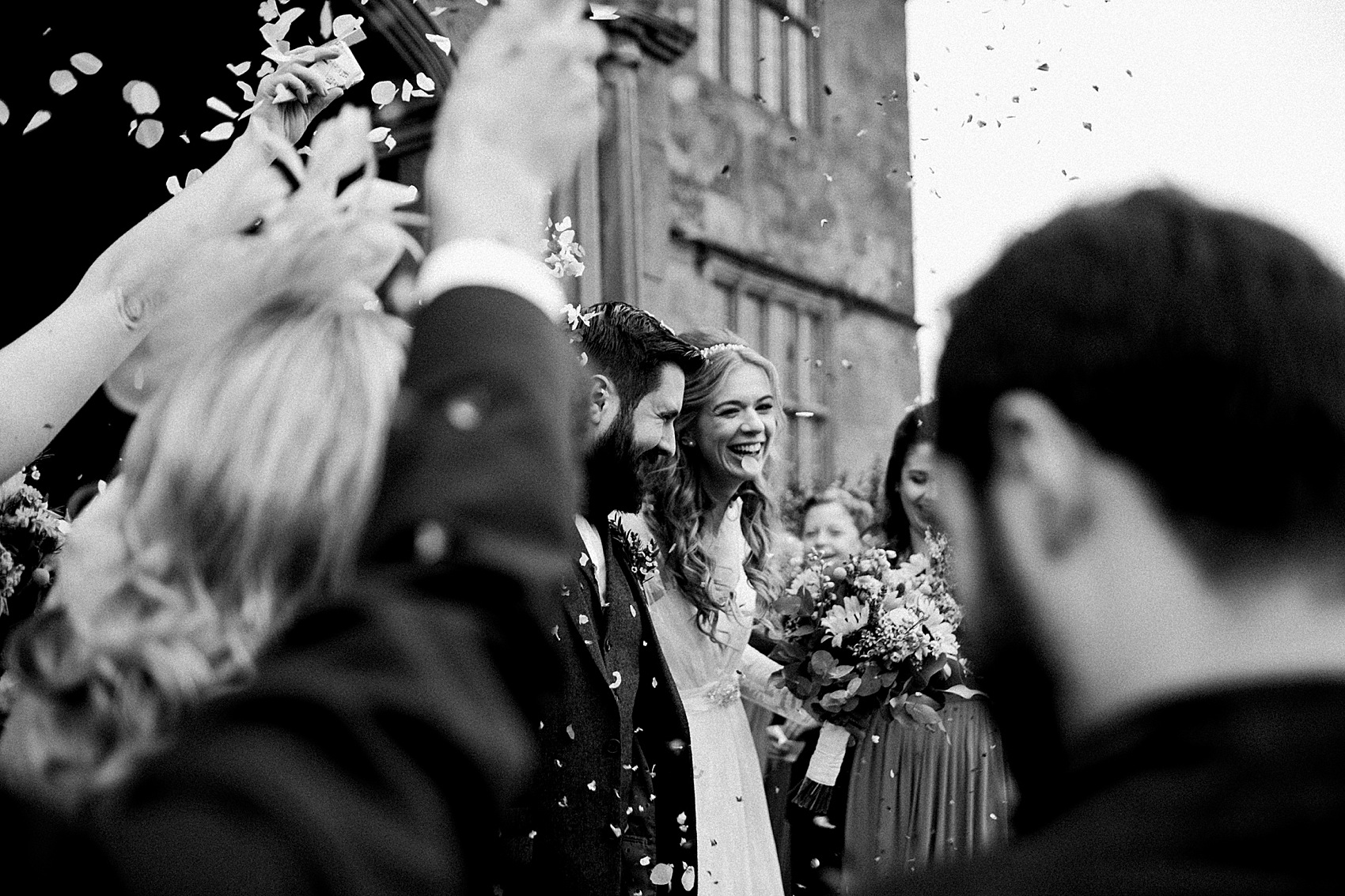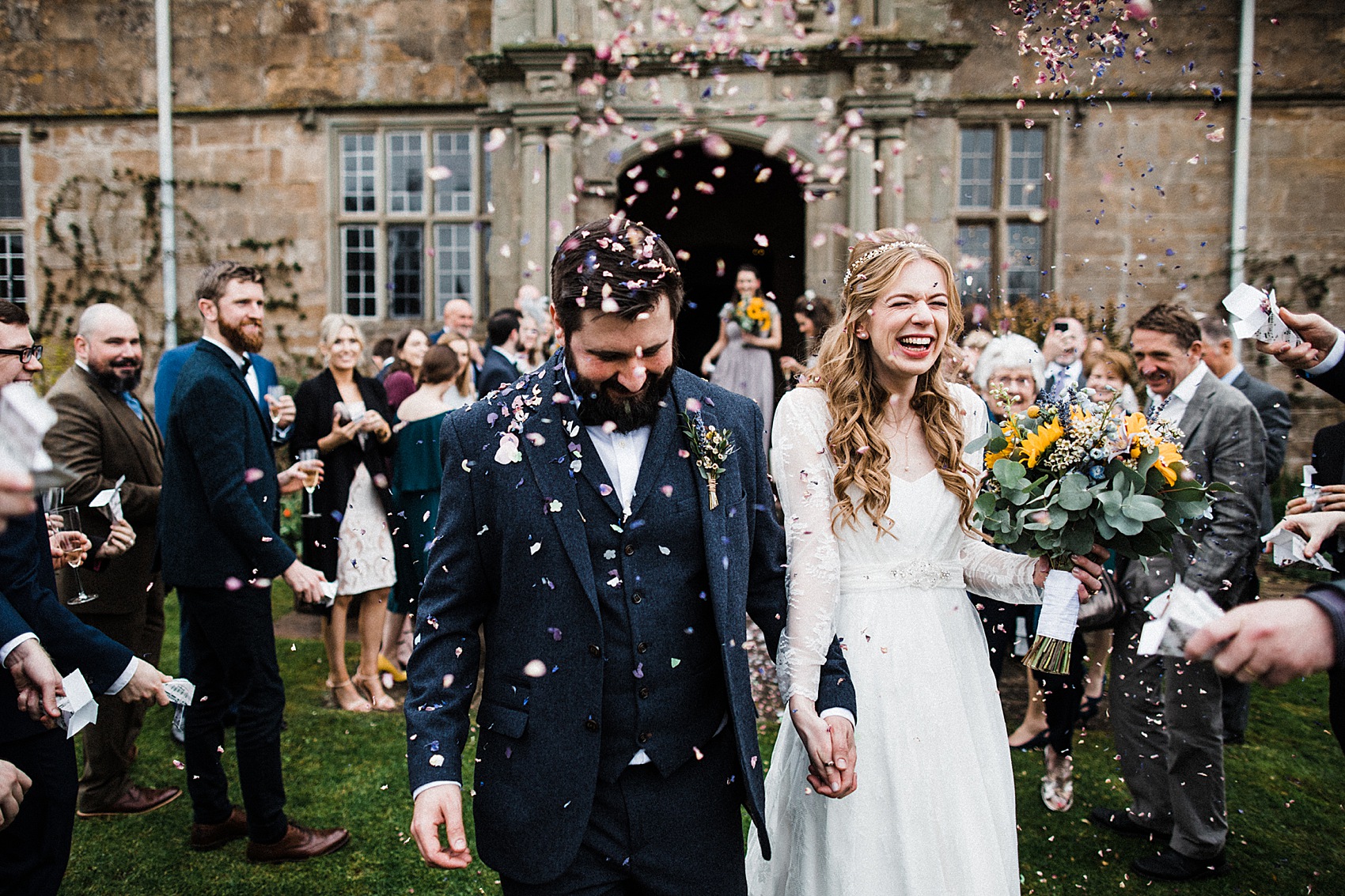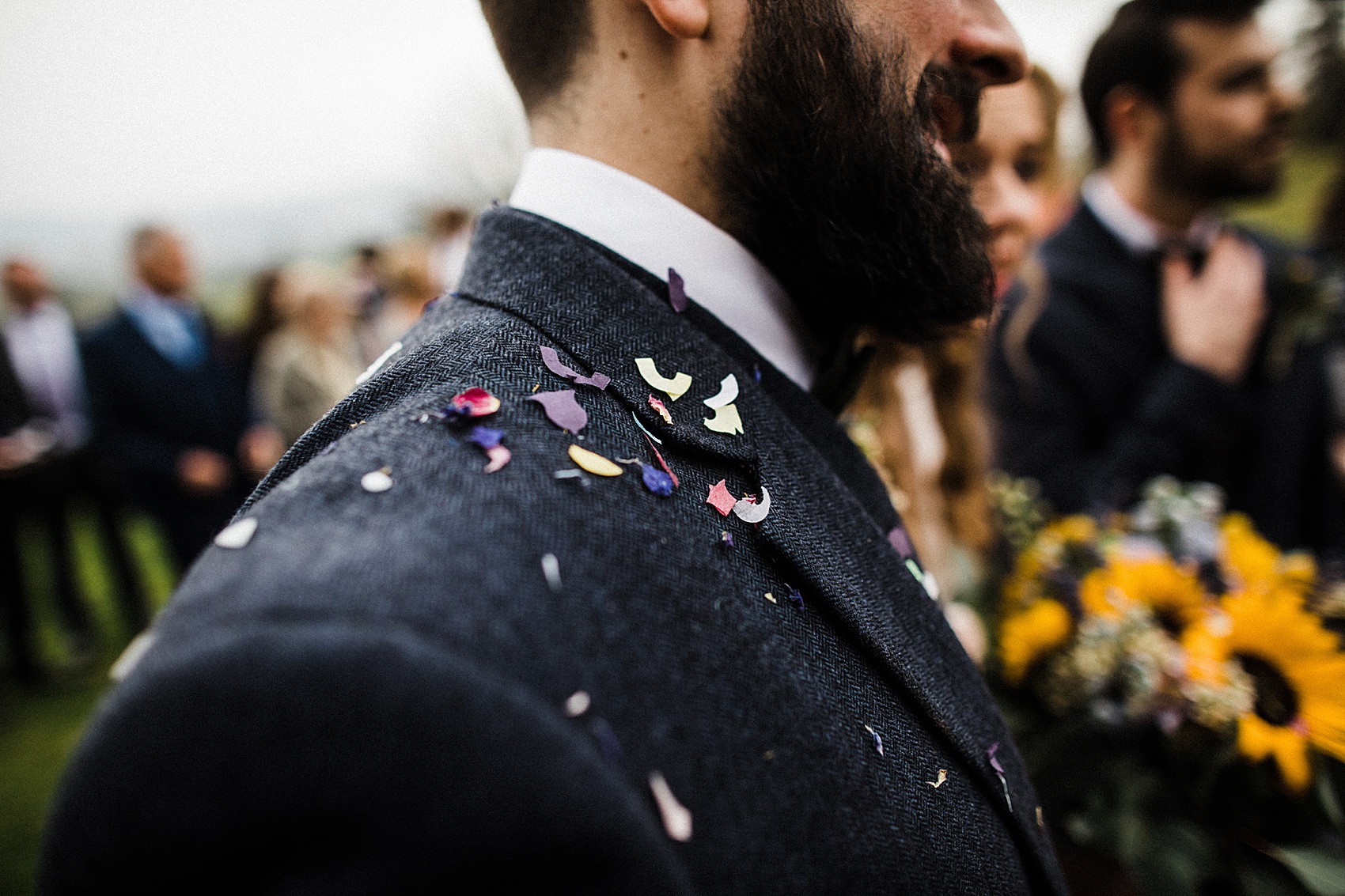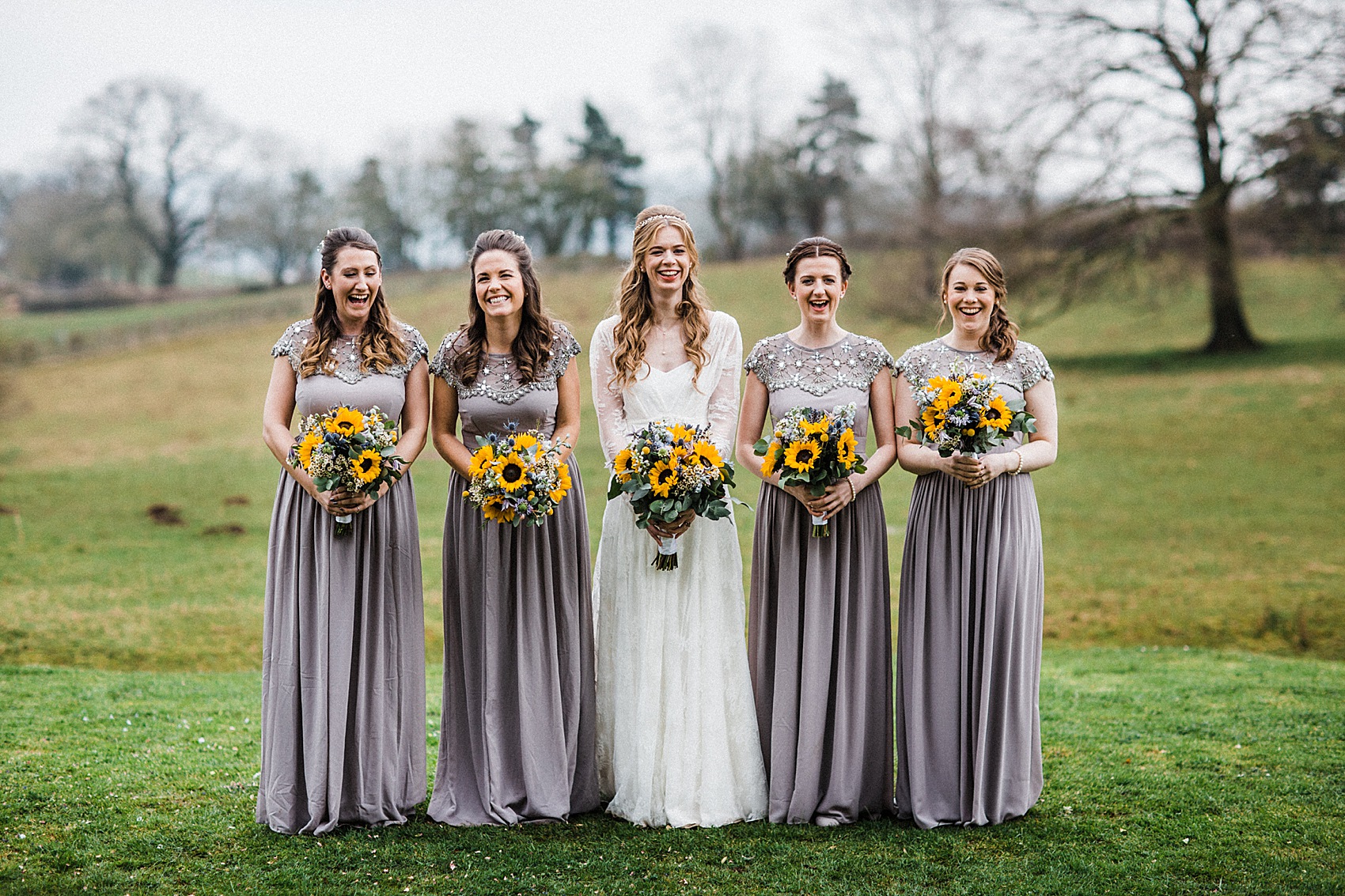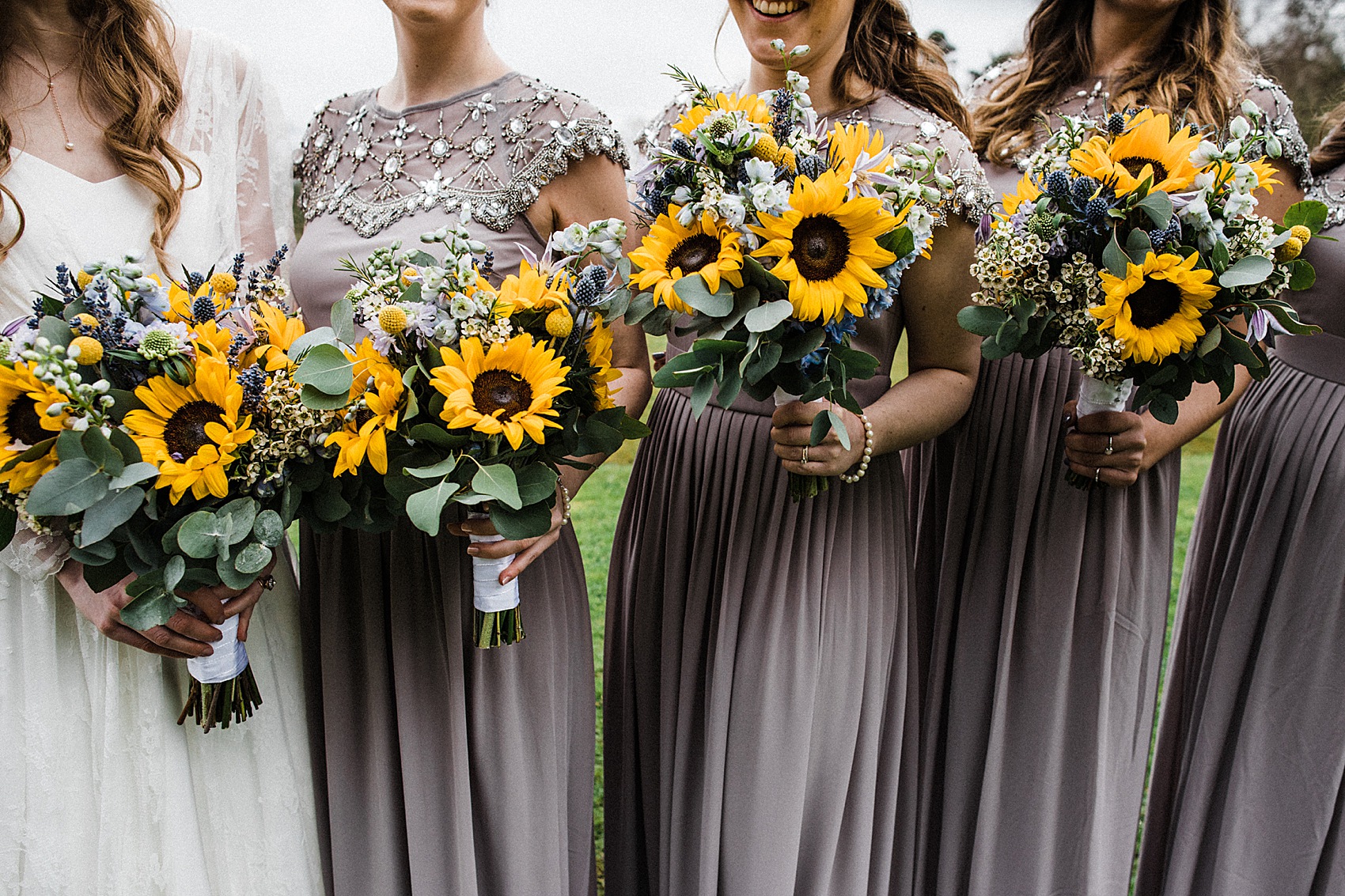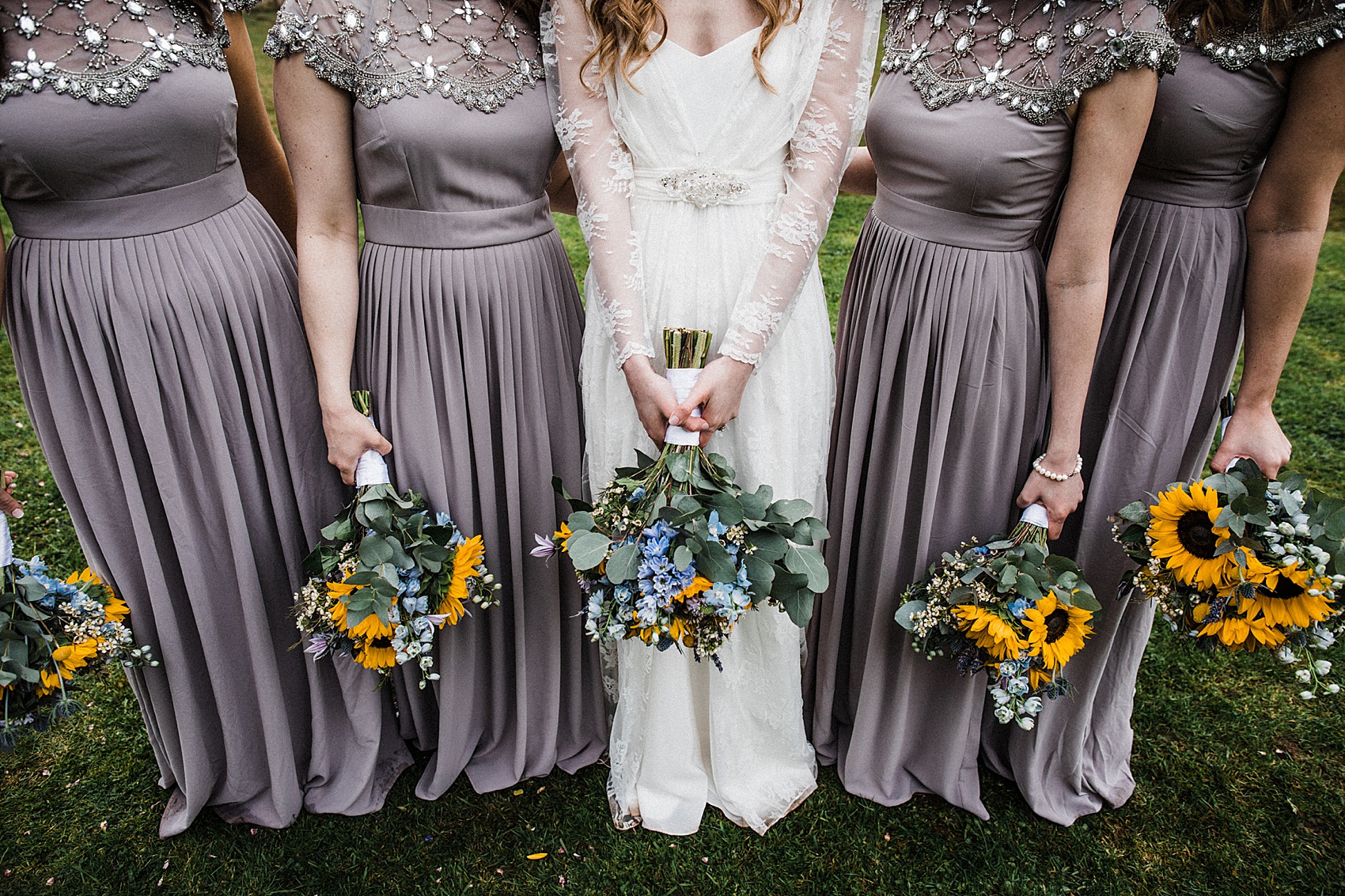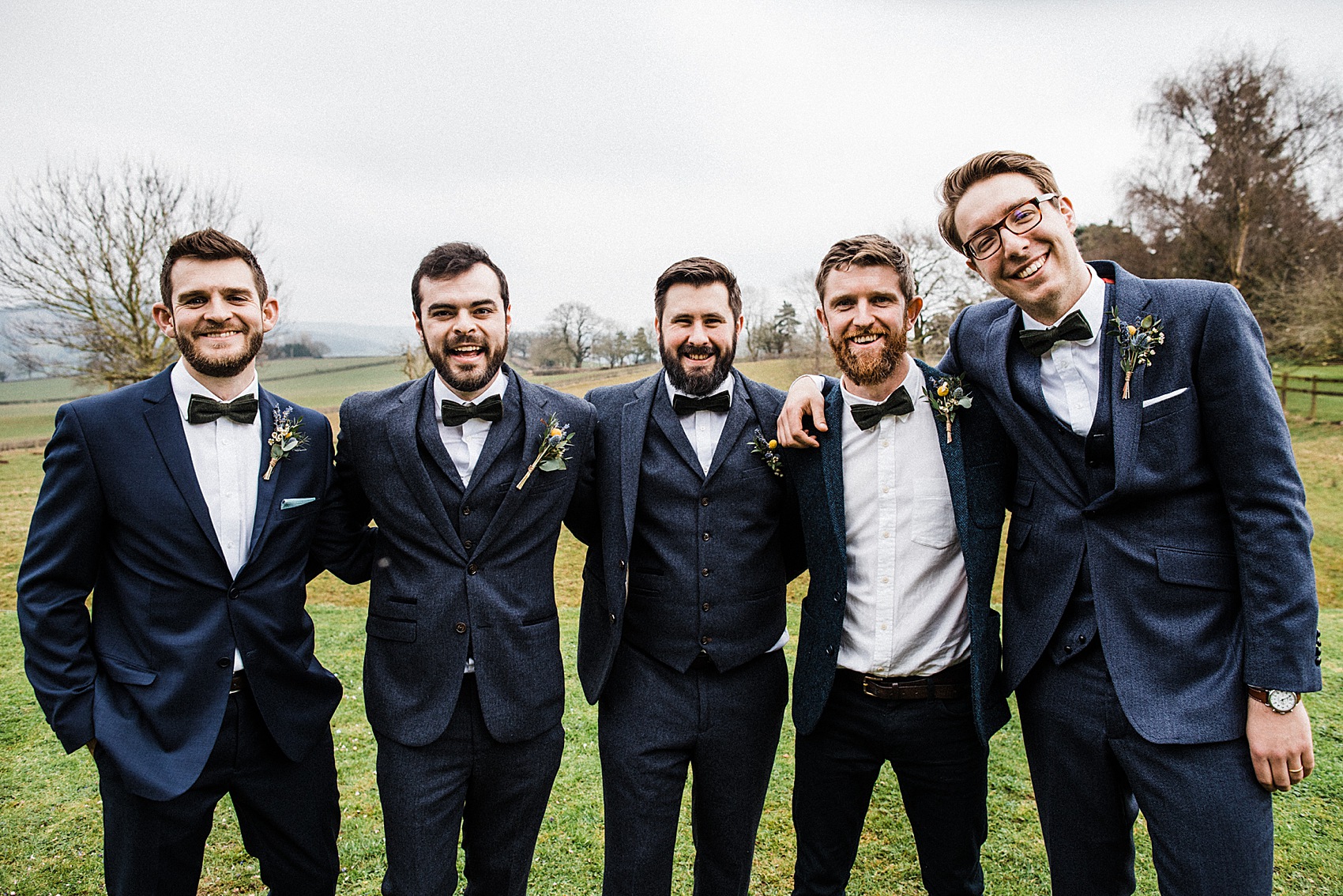 I just love the newly-weds' first photographs together out in the Welsh countryside, complete with Hunter wellies and plenty of mud. These wonderful, light-hearted shots were taken by Through The Woods We Ran, whose style is crisp and modern yet relaxed and romantic.
"Glenn and Lauren are amazing – I can't praise them enough. We both aren't particularly great at having our picture taken but they made us feel at ease the whole way through. Like us, they're also big animal lovers which was a bonus. They were fun to have around – it really was like having two extra guests with us on the day."
"They're such pros that they helped everything run smoothly, particularly the posed photos which I had been dreading. The pictures were incredible, capturing all the small details and the emotion of the day. I can't help but smile every time I look at the photos."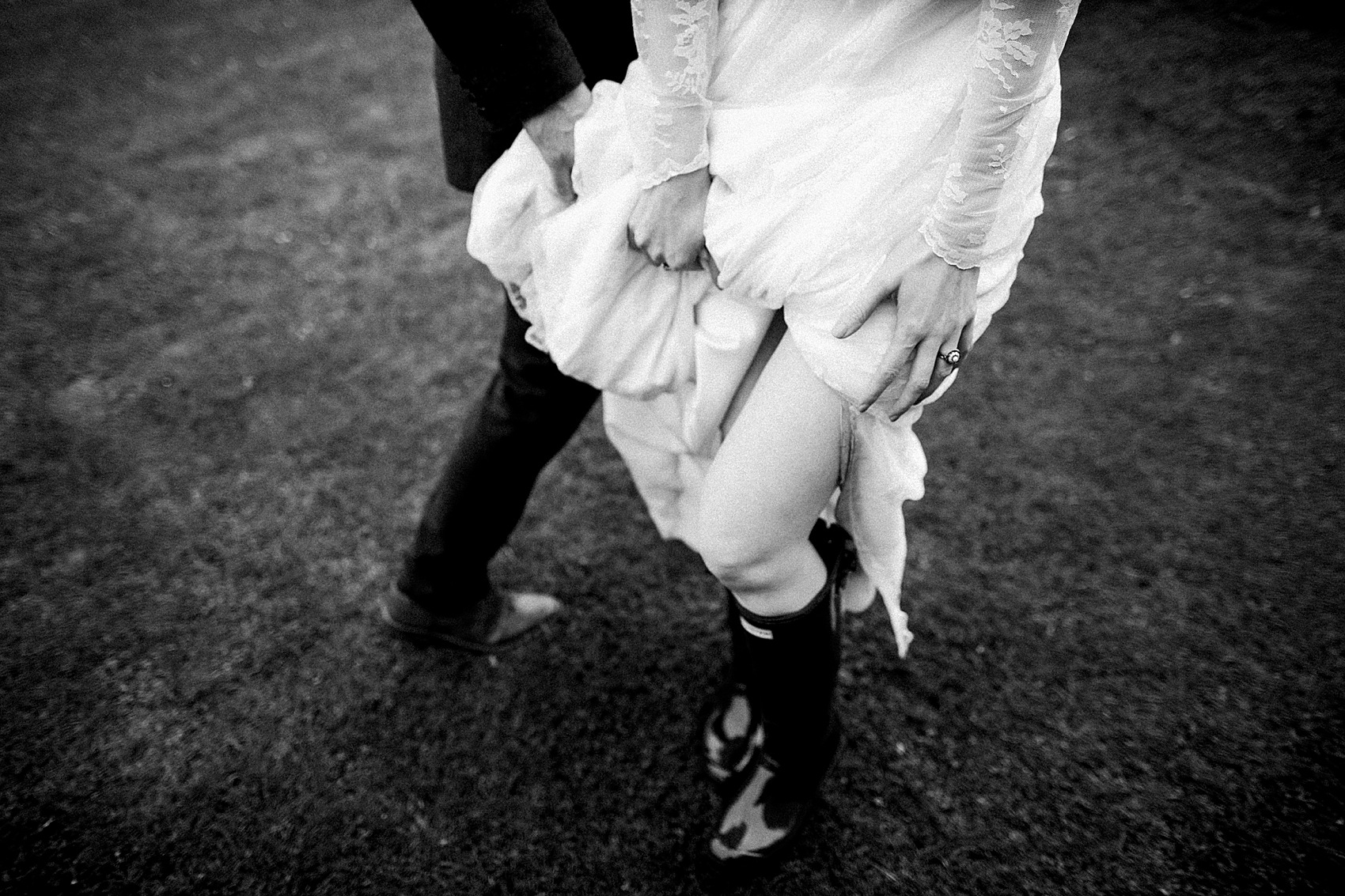 Back at Treowen, the wedding breakfast was served by Harley's Hog Roasts.
"We chose them as they were really laid back, friendly and affordable. A lot of caterers we spoke to would only offer an off the shelf, expensive package, whereas Mike and the team were happy to plan around what we wanted. The service was top notch and the food was fantastic. "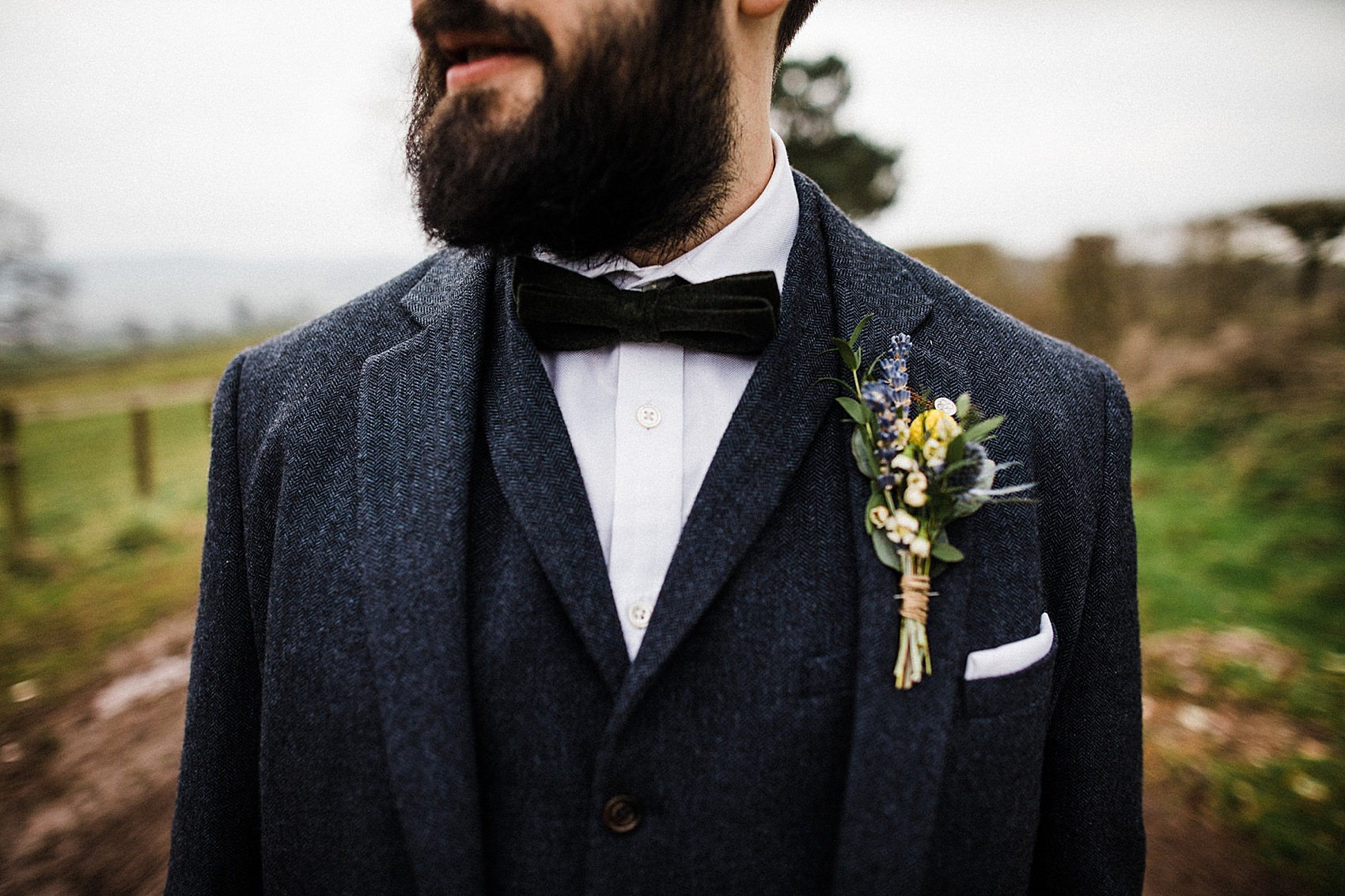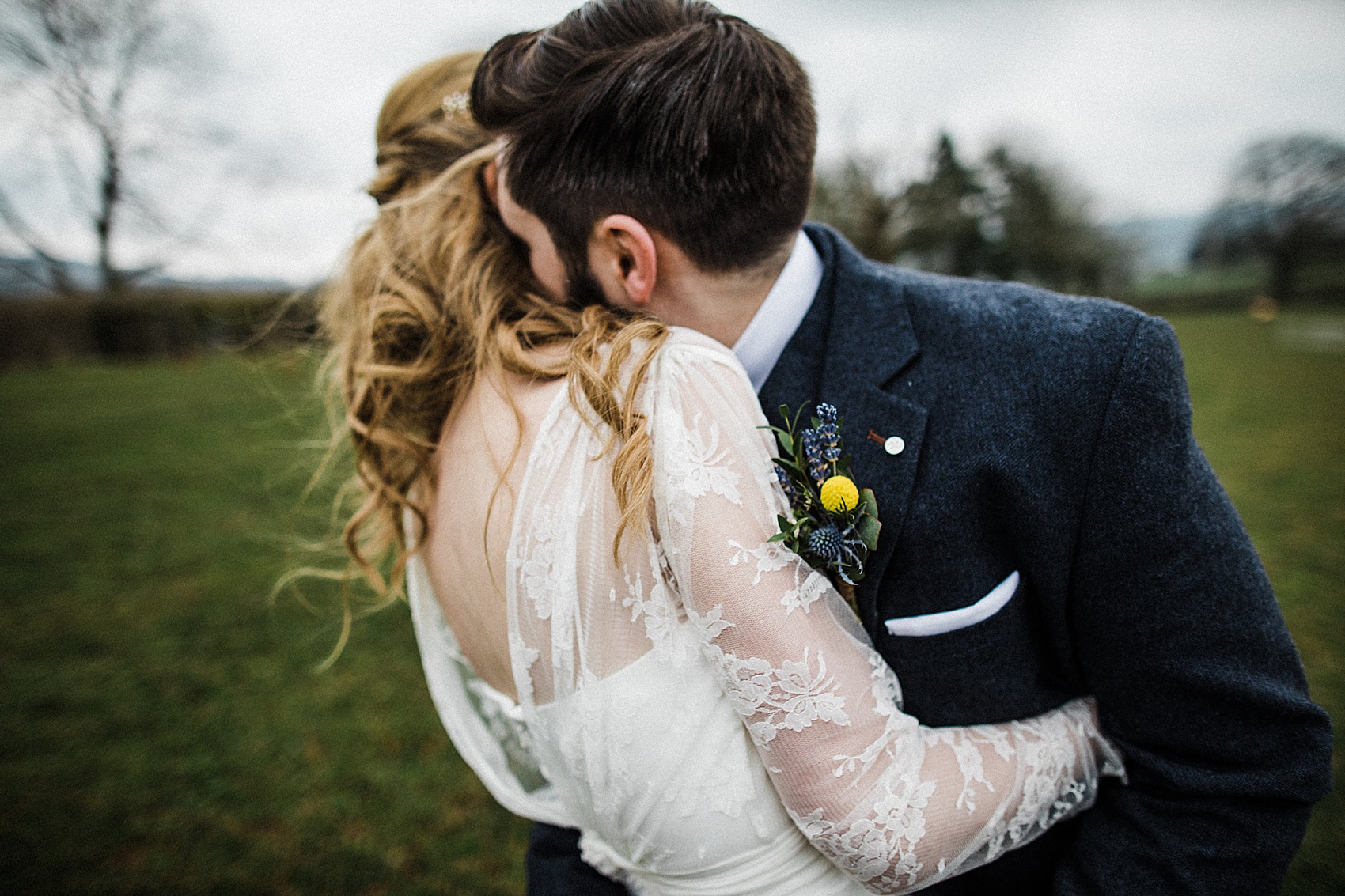 During her engagement, Daniella discovered a love and talent for calligraphy and as a result, has started her own business, Greenwich Paper Co.
Explore superb suppliers and beautiful venues in our Little Book Wedding Directory
"Early in the planning process we both took a calligraphy course with Quill London which was amazing and inspired me to do most of our decorations myself. We also did a watercolours course with Emma Block, who I came across when her own wedding was featured on Love My Dress."
"We created our invites together using my calligraphy and watercolour illustration of sunflowers and lavender, which formed a jumping off point for the rest of the decorations."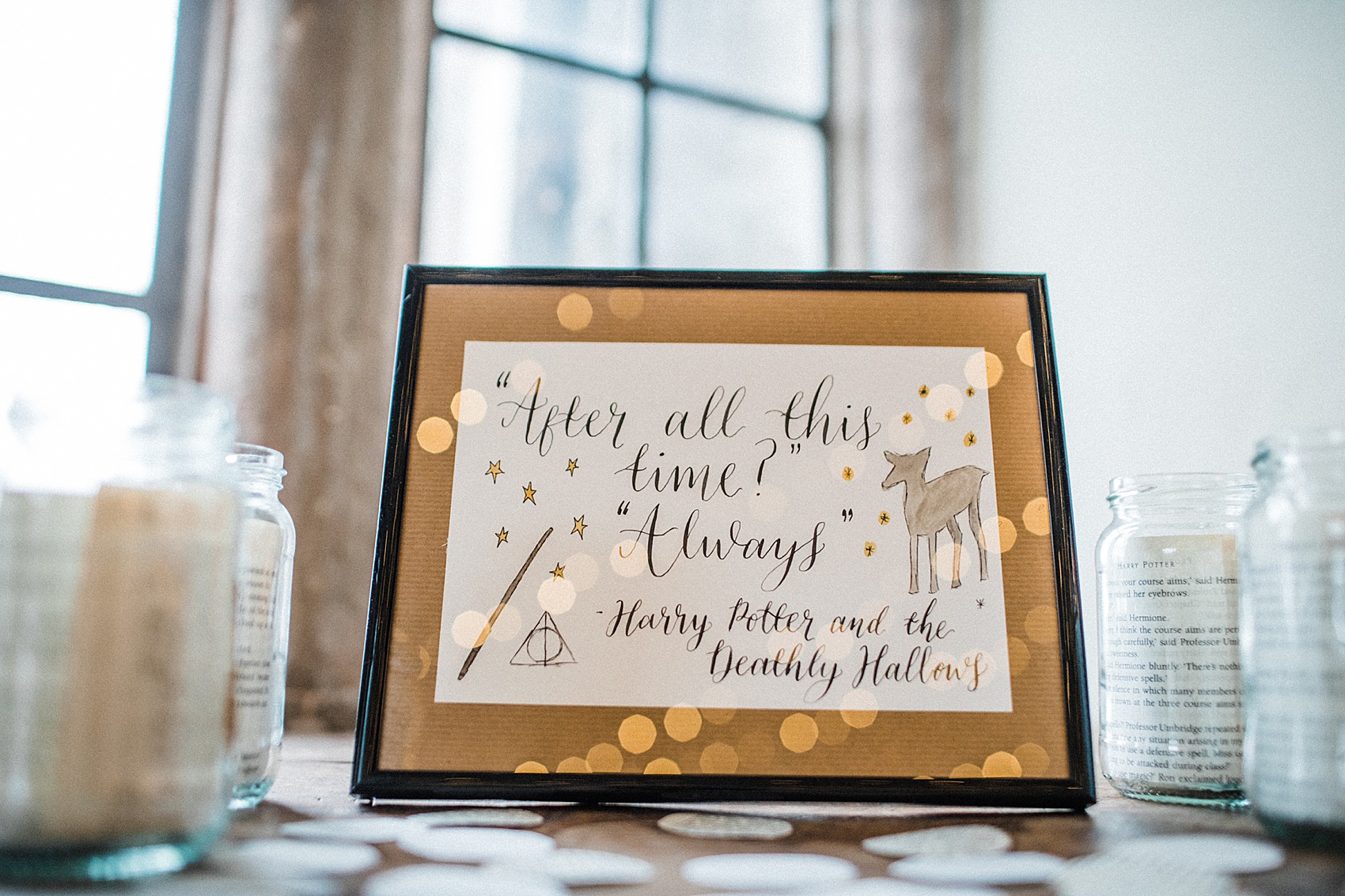 "I enjoyed getting crafty and ended up doing a lot for the day, including chalkboard signs, bar menu, calligraphy literary quotes with watercolours for the dining room and a post box covered in Harry Potter pages for cards."
"Crafting was probably my favourite part of the wedding planning process, and I've set up a side business, Greenwich Paper Co, and started doing cards, venue illustrations and stationery for other people's weddings."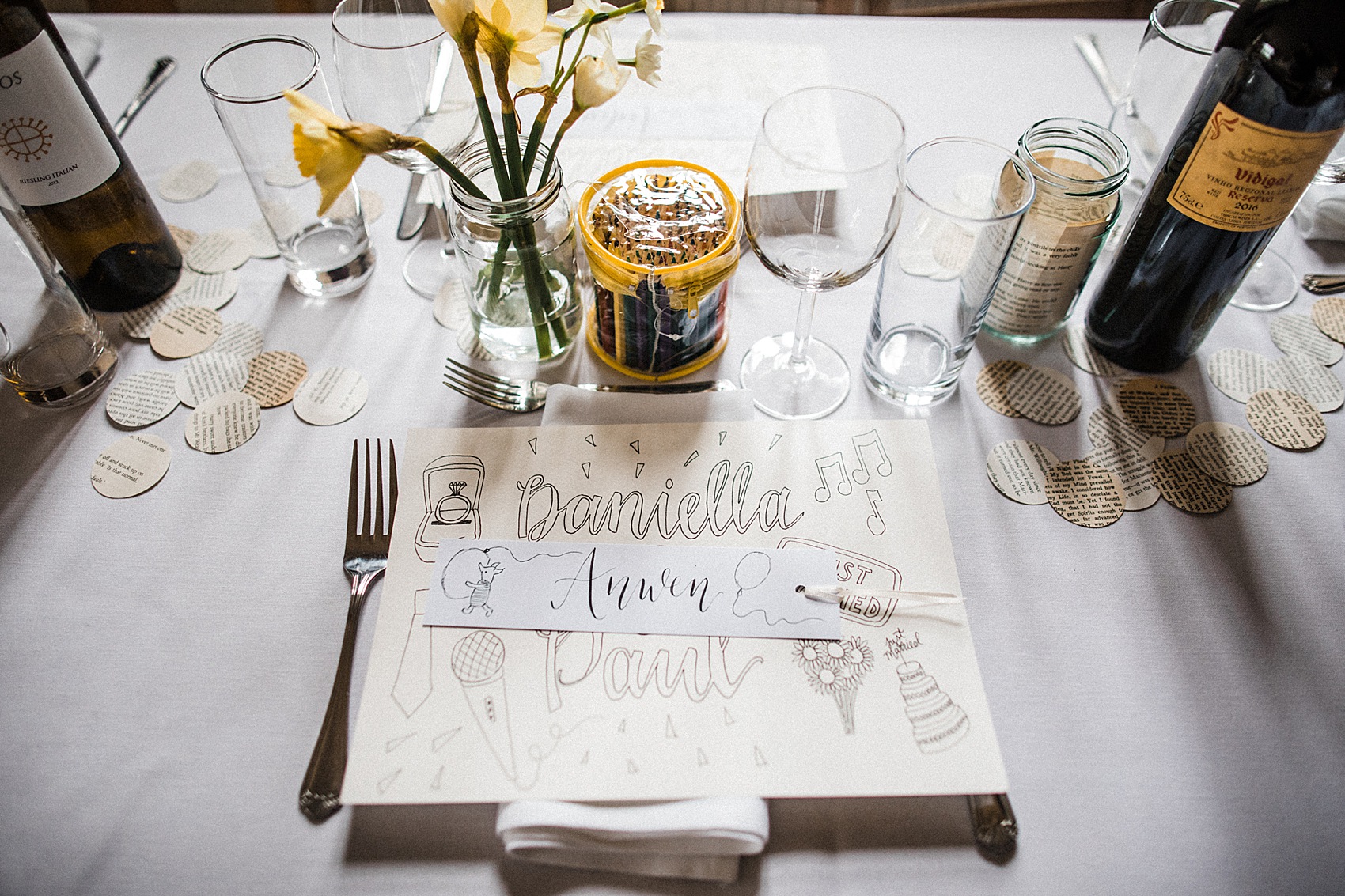 The rest of the decor was kept simple and home-spun, with plenty of personal touches and references to the surrounding countryside.
"The venue was gorgeous so didn't need much, but we tried to put our own stamp on it throughout.  I'd created 'welcome to the wedding' and 'order of the day' signs to greet guests. We had fairy lights galore, flowers and dried hops given to us by a friend of my mother-in-law."
"Upstairs in the ceremony room we also had pictures of our grandparents and my great-grandparents, so even those who couldn't be there were involved in some way."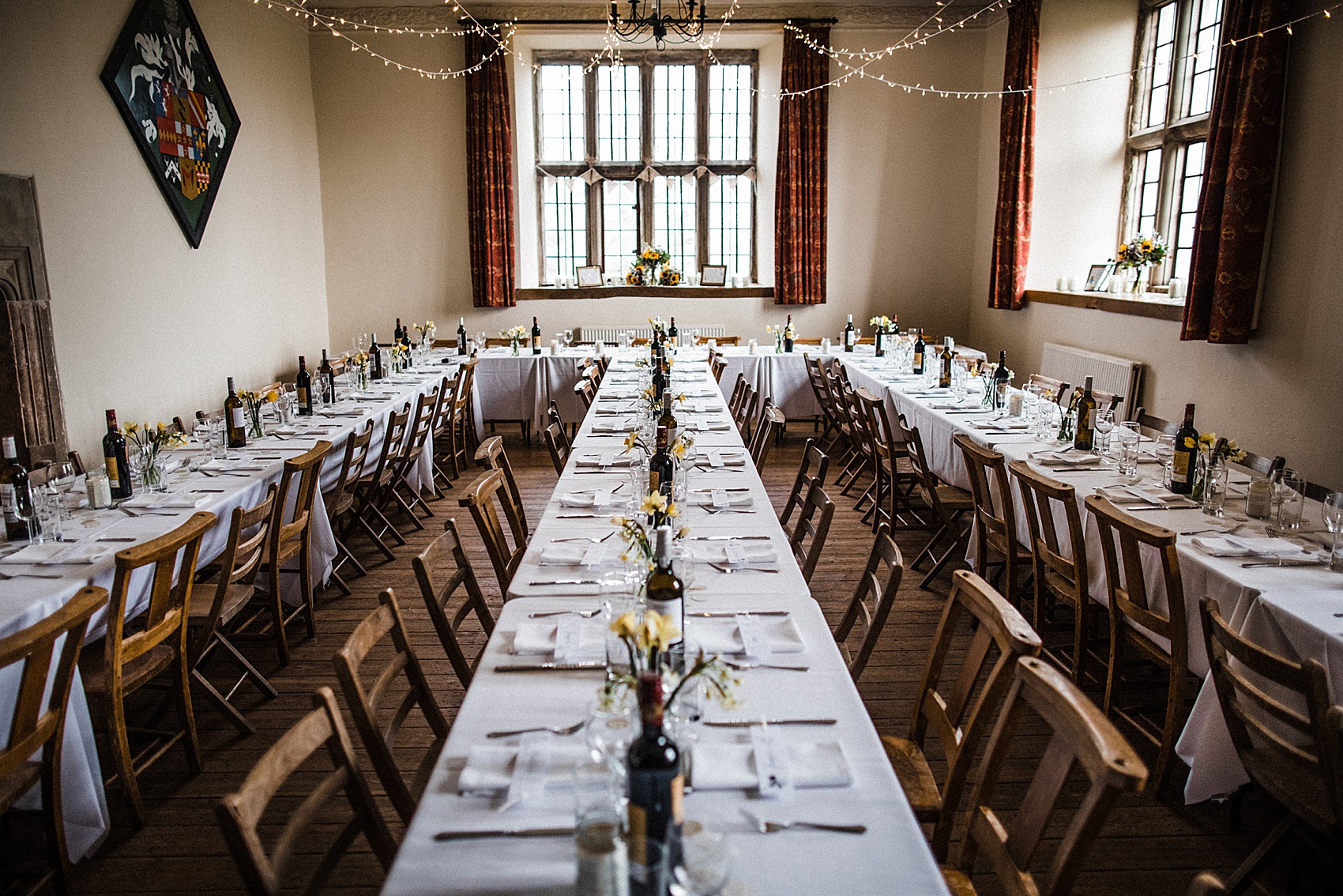 "We dressed the bar area with hops, lights, papier-mâché letters covered in book pages, and signs I'd made with what was being served. We also had a table for our guest book and cards. I covered a post box in Harry Potter pages for the cards, made the guest book and a few signs, and dressed the table with an old typewriter."
"We also had giant letters with our initials covered in corks – the ampersand and D had been borrowed from friends who had them from their wedding, then they had made us the P."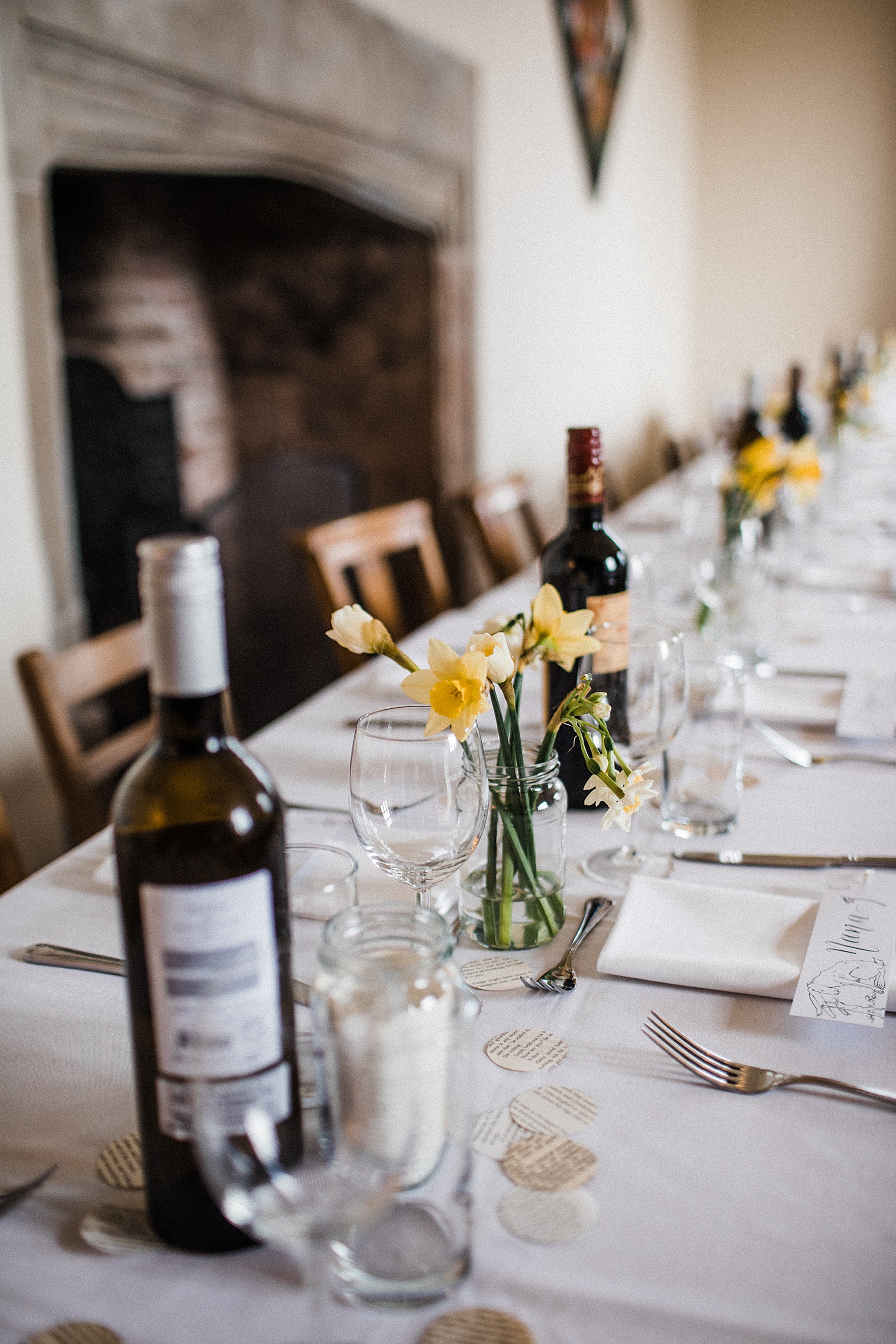 "I made bookmarks which doubled up as place names, with guests' names in calligraphy and drew illustrations from some of our favourite children's books. I'd been to so many weddings where the favours were left abandoned, so thought at least this way they served a purpose even if people didn't keep them."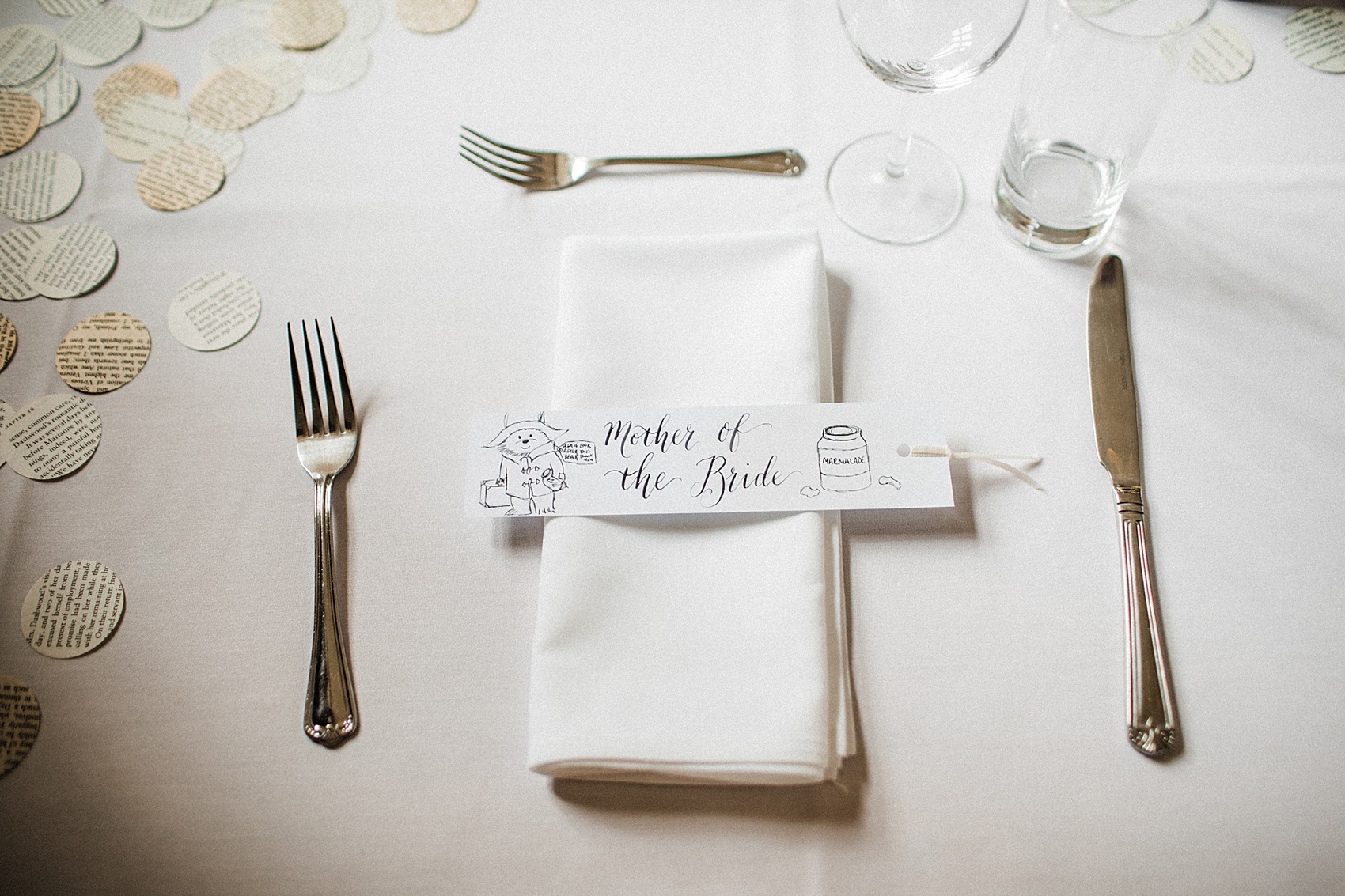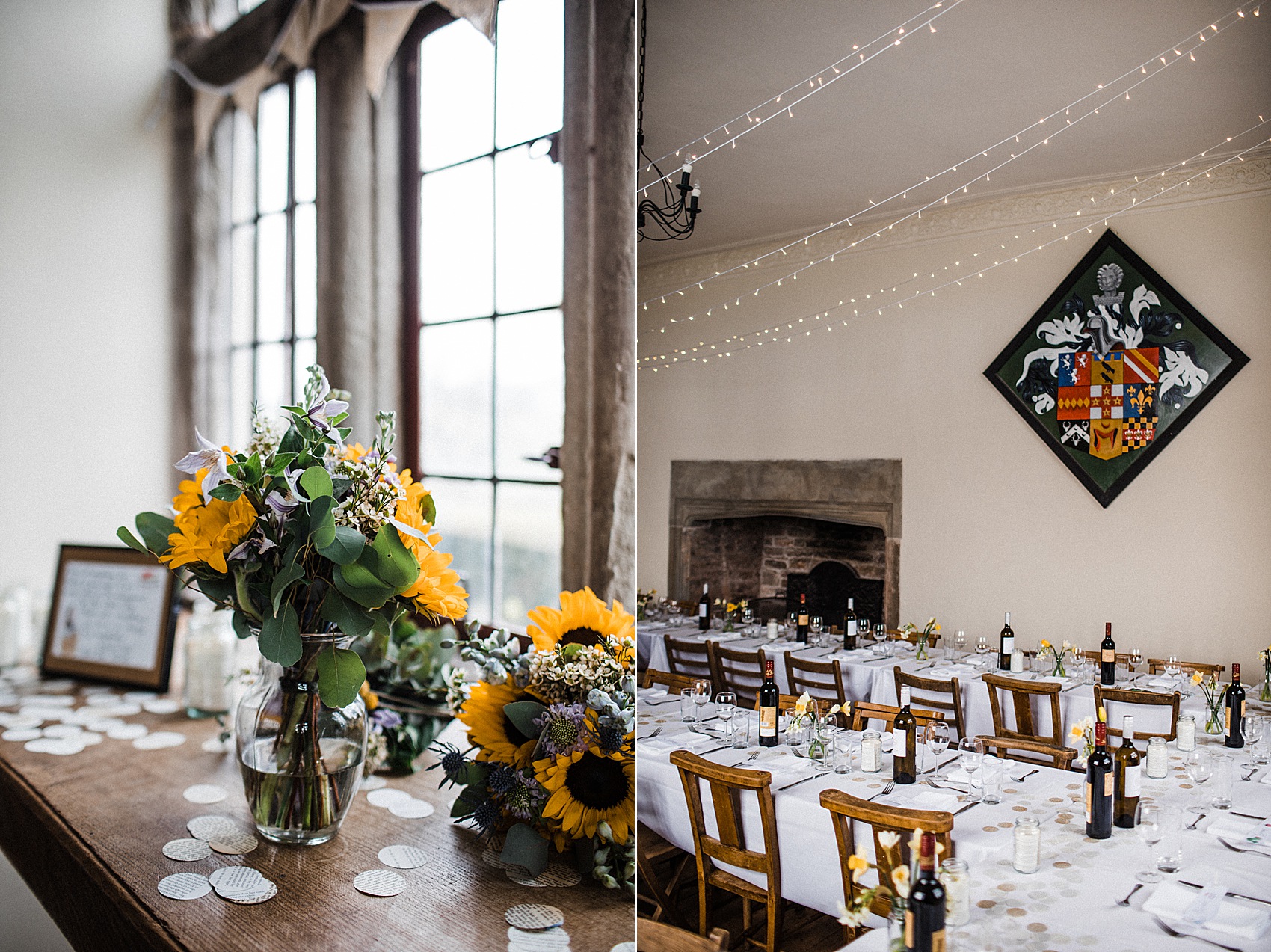 "Neither of us are big wedding cake people so we didn't have a proper cake – we just had lemon tart from M&S for pudding! Instead we had a cake of cheese. We had a last-minute emergency, but thankfully The Cheese Shed saved the day with a 48-hour turnaround on a cheese stacked wedding cake."
As day turned to night, Daniella slipped off the lace overlay and replaced it with her sparkling cape, ready for dancing.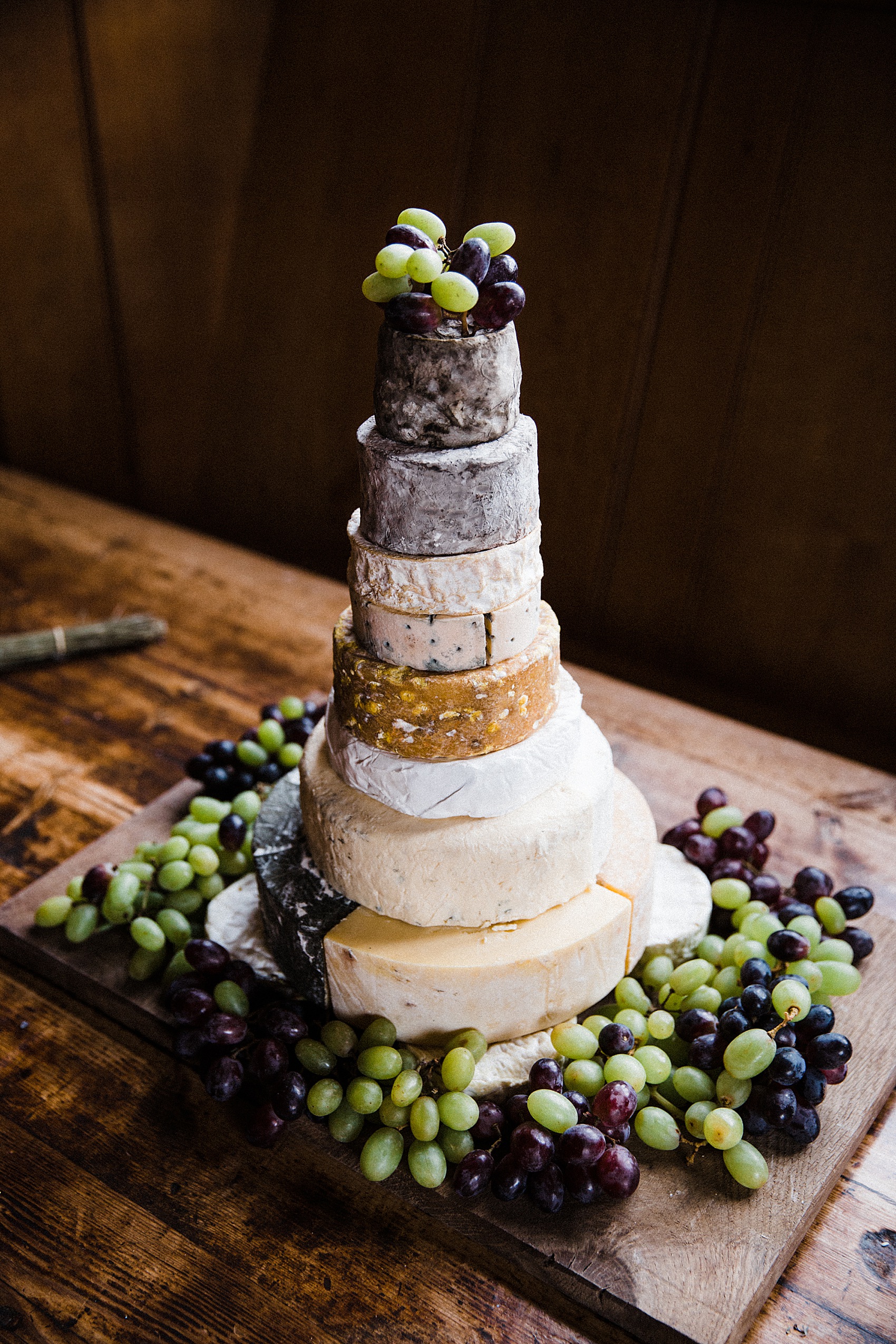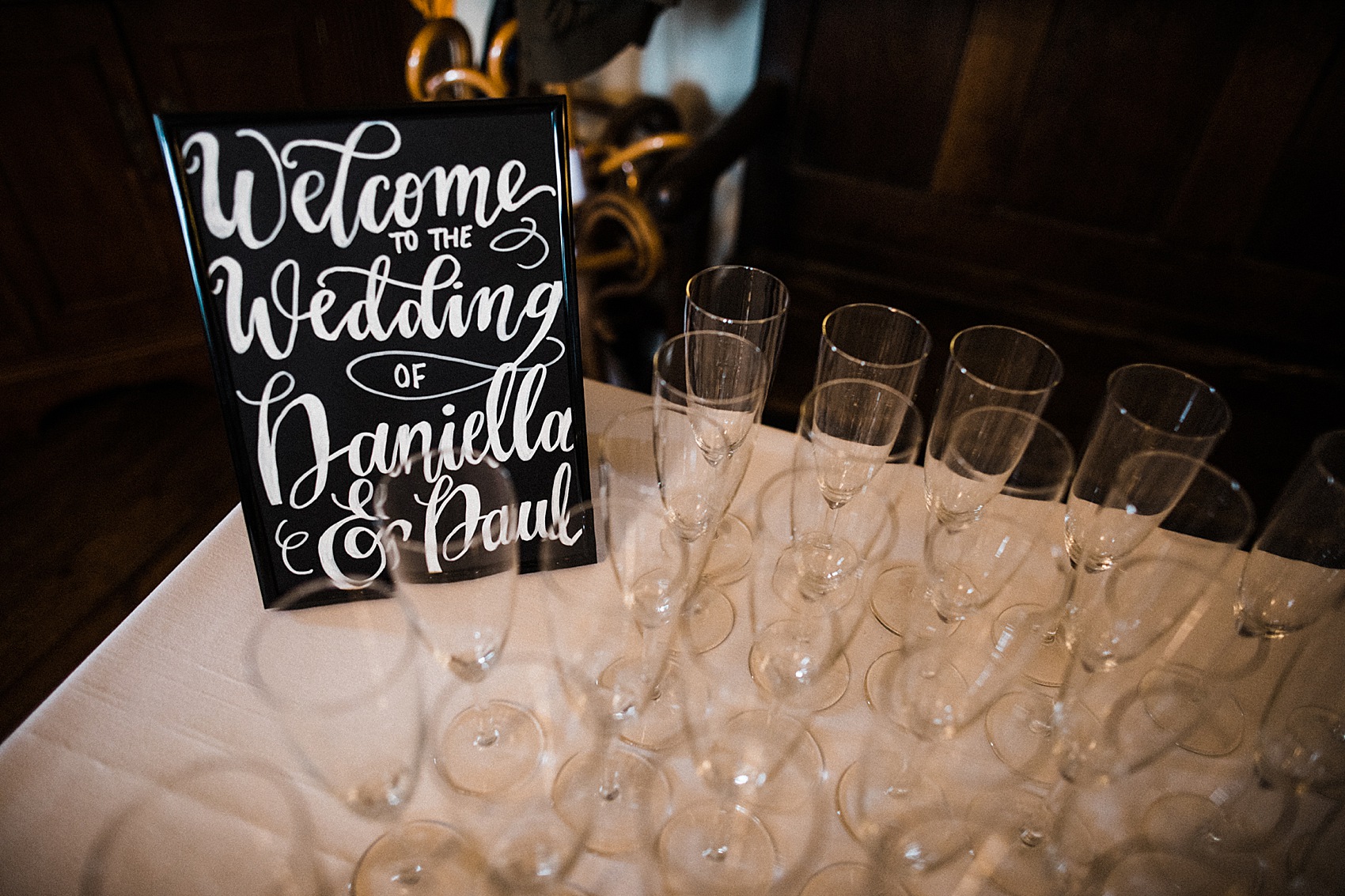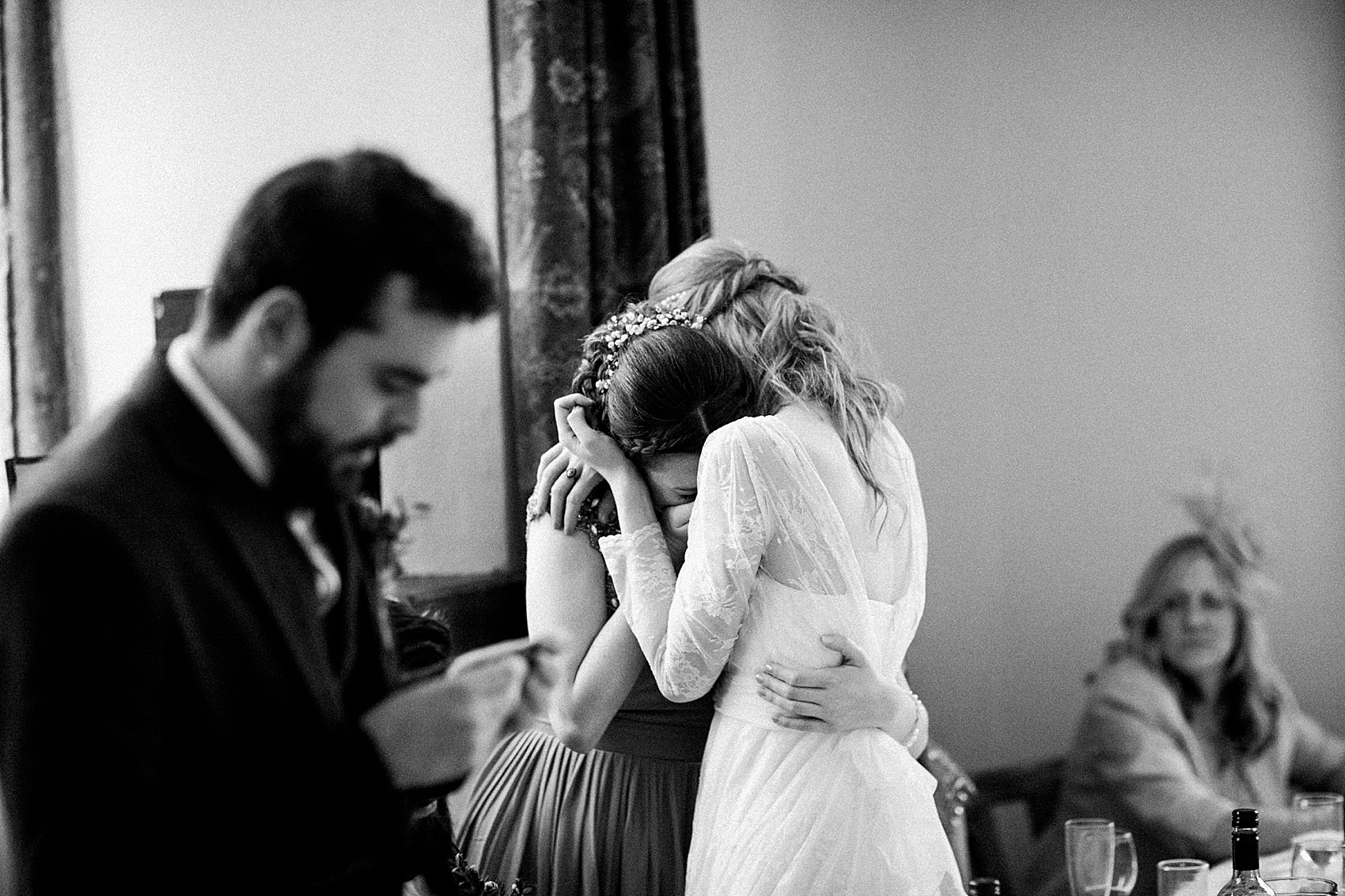 After a first dance, played by Rhys Thomas, Blow The Band took over and got the dance-floor moving.
"The first dance was one of the most difficult decisions of the wedding! We're both Indie fans, but struggled to find a song that we liked that was actually appropriate. In the end, we settled on 'You've Got A Friend In Me', which felt appropriate given our shared love of Disney films and the fact our relationship started in friendship. Rhys, who had played us down the aisle, performed an amazing cover for us."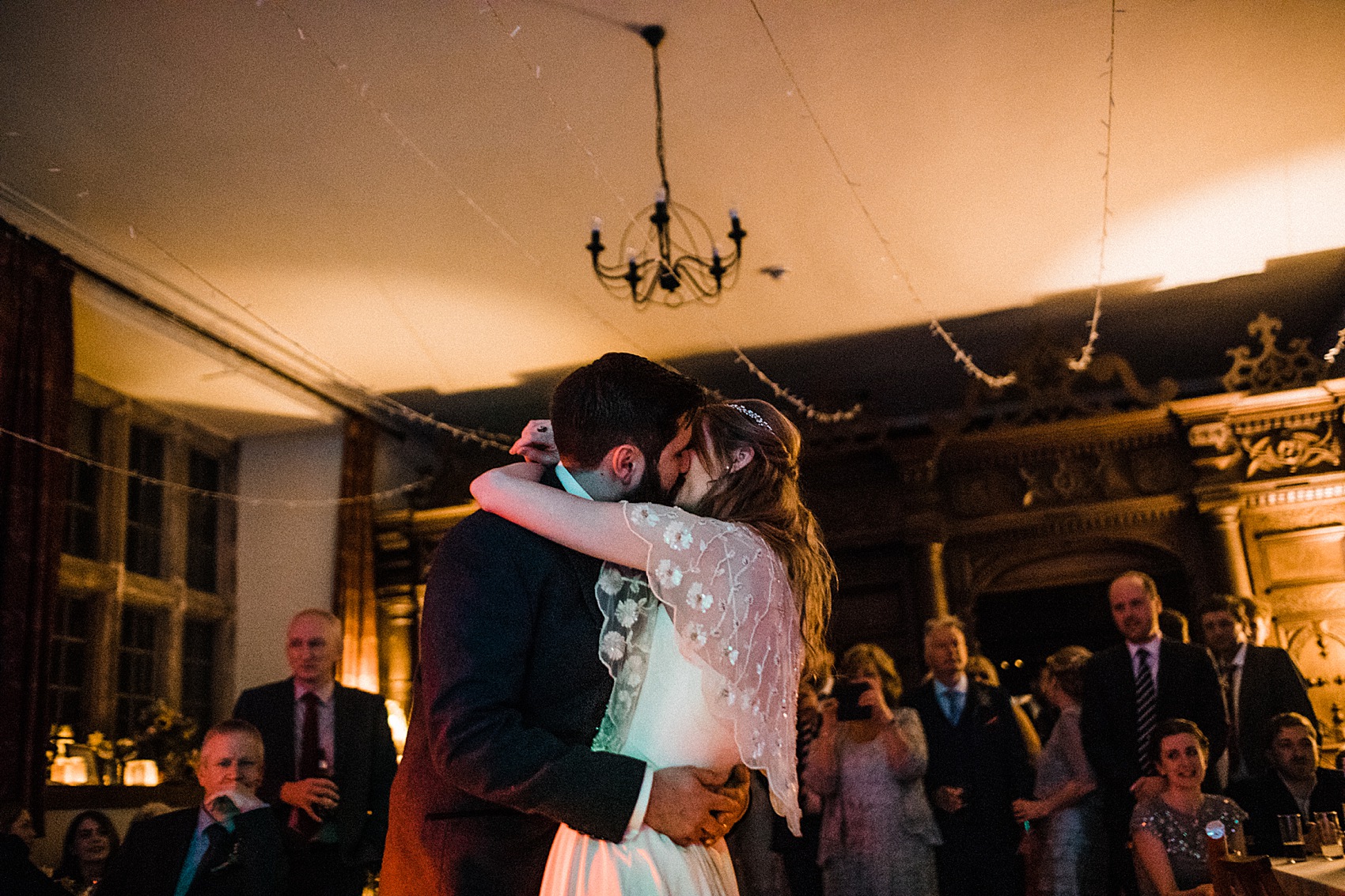 "The first dance was when we could enjoy the fact everything had gone well and reflect on the day together. It was also amazing to see our confetti cannons, co-ordinated by my sister-in-law, go off in unison towards the end of the song."
"A few days before Paul proposed we were in a pub not far from our house and heard a band playing covers of pretty much all our favourite songs, from The Beatles to Indie classics."
Postponing your wedding? Bookmark our Covid19 pages which are full of useful, practical & emotional advice.
"Luckily, they were willing to travel and they were the first thing we booked (before we'd actually confirmed the venue). They were great on the day, getting everyone on the dance-floor, which was packed the whole night."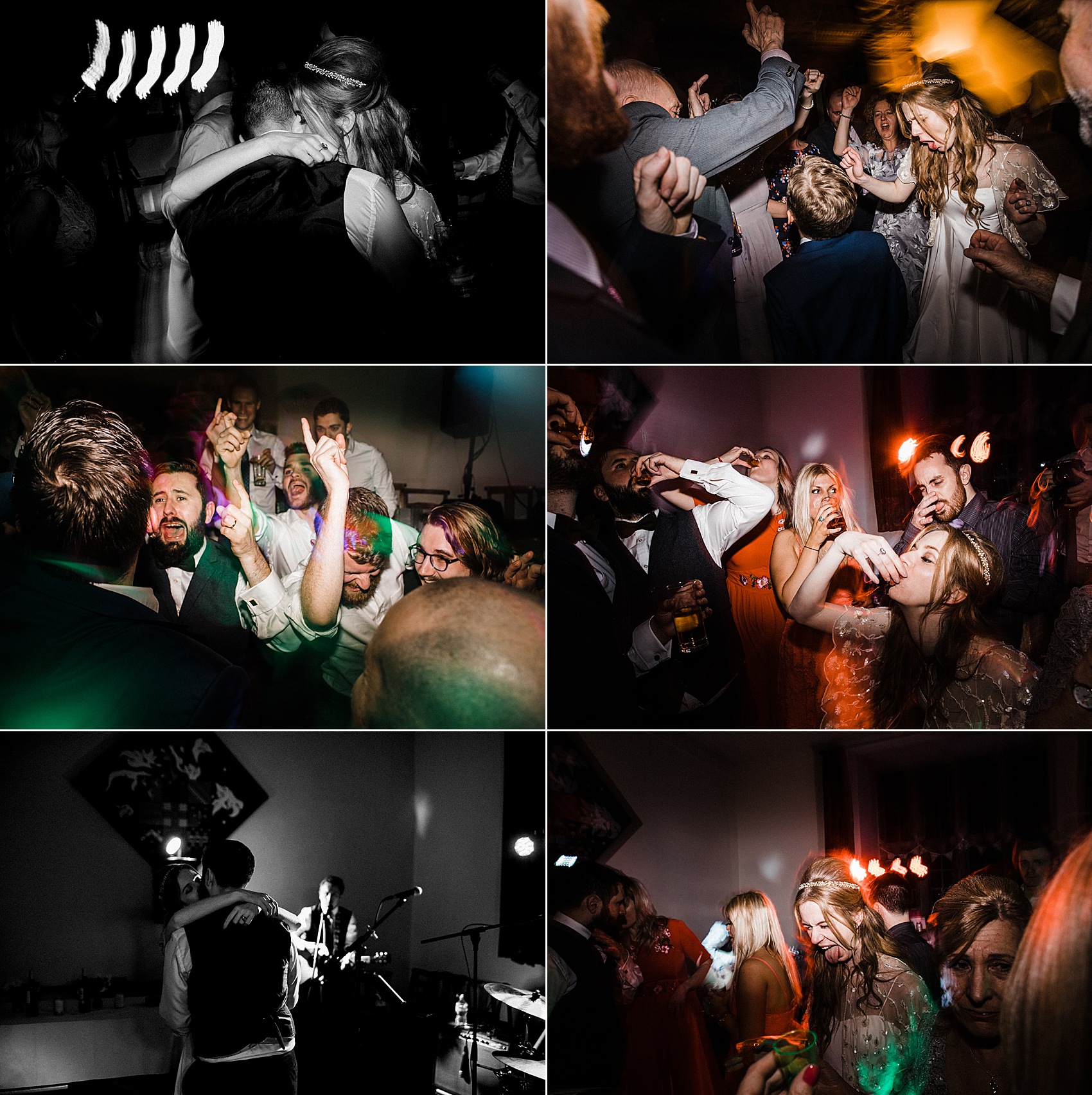 "The dancing was just the perfect culmination of the day. The band was brilliant and it was really lovely to see our friends and both sides of our families dancing and having fun together, and really enjoy having our friends and family in one place."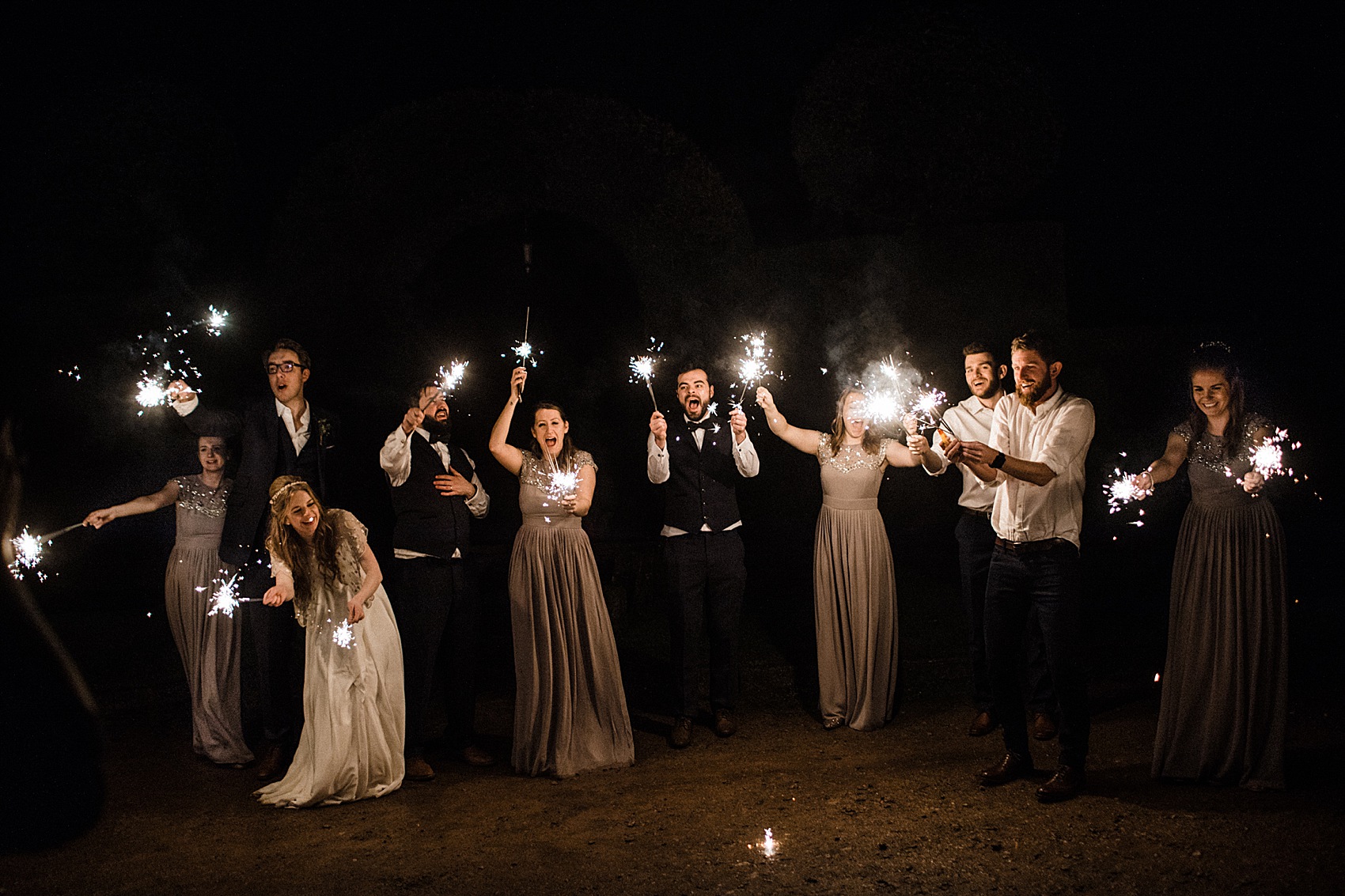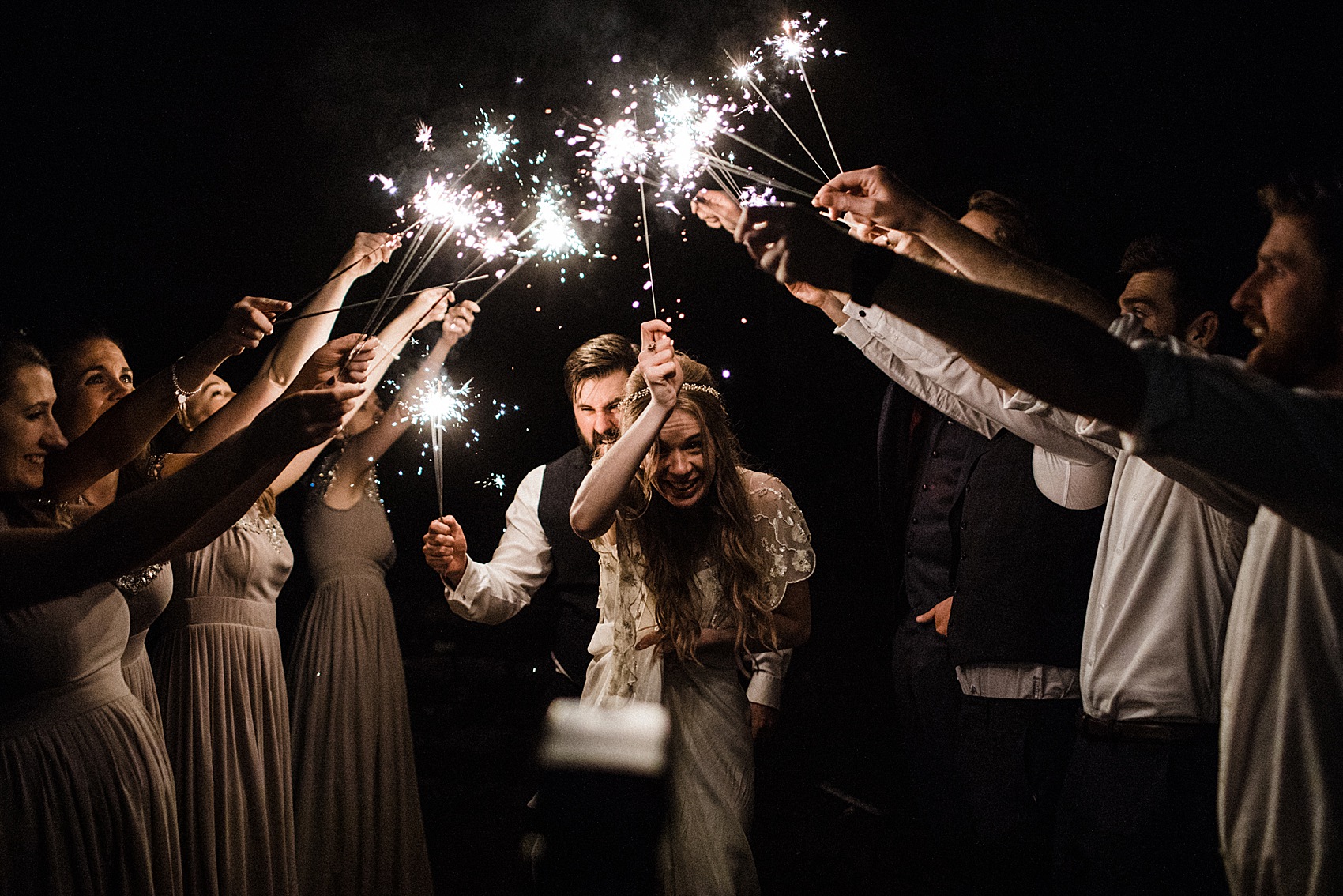 Words of Wedded Wisdom
"We found the guest list probably the hardest part of wedding planning, but eventually cut it down by separately writing down our 'we couldn't get married without them' friends and family and going from there. This definitely made it easier to make some tough decisions!"
"If there are pictures beyond the essential must-haves you'd like to have, then tell your guests in advance. We had a short list of all the essentials so we have loads of amazing official shots, but afterwards kept thinking of various people I hadn't had pictures with, such as uni friends, group shot of my old housemates… It's always going to be impossible to have a picture with everyone, but I wish I'd suggested to some of our friends to pull me aside for a pic later in the night to try and get a few more snaps in."
"Make a speech! I was so happy I had the chance to thank everyone myself. Also, it's great to have someone check the speeches – a tip I gained from my best friend's wedding. My maid of honour read most of the speeches beforehand to ensure we didn't have everyone telling the same stories."
"When it comes to planning, know your limits and do what you want to do. I loved crafting so spent a lot of time on it, but staggered it over months so that I could enjoy it instead of driving me up the wall. We divided tasks based on what we both cared most about, which helped for smoother decision making and less stress for both of us."
"You don't have to love every minute of wedding planning to enjoy your wedding. I read so many blogs where brides talked about how much they loved wedding planning and how they missed the planning once it was over, but I was the complete opposite. There were times when I really enjoyed it, but there were just as many (if not more!) times when I found it boring, stressful and like a second job… But on the day, I loved every minute of it."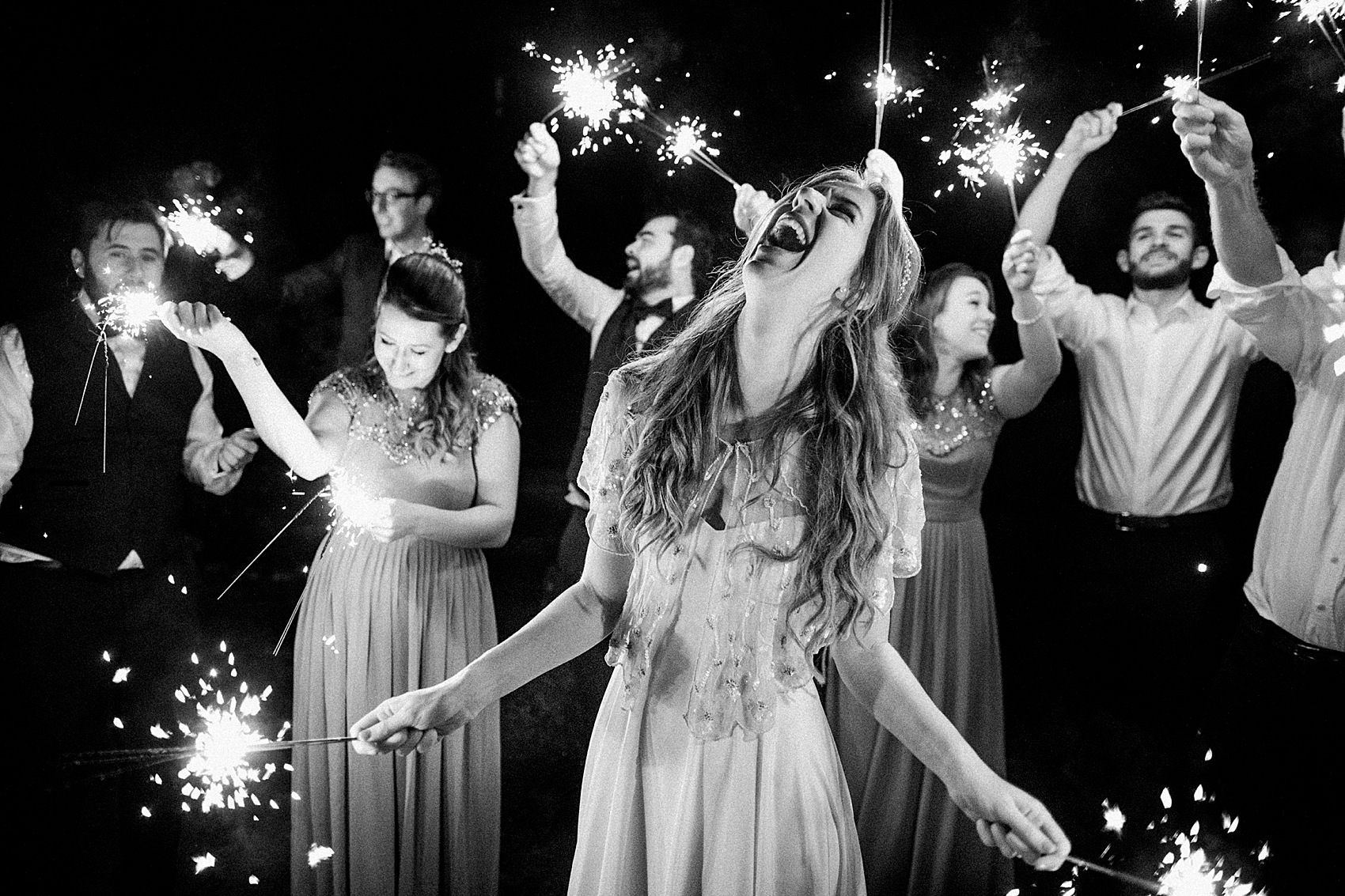 Daniella and Paul, please accept my thanks for letting us share your wedding. It's really injected some spring-time joy into my dad, and I love the delicate, personal touches that you created yourselves. As always, it's been such a pleasure to publish the work of Through The Woods We Rain, and if you'd like to see more of their work on Love My Dress please do take a look here.
Ele xx