Adaption, evolution and reinvention are fundamental to the very concept of marriage. Religious, spiritual and cultural history are mirrored in the changing nature of weddings.
Whilst Covid has been financially and emotionally ruinous, on another level it is, simply, a game changer that the institution of marriage will inevitably embrace.
With The Law Commission review looking at the ability to marry anywhere, not just a licensed venue, place of worship or registry office, another sea change for couples, and the industries that serve them, was already coming.
Film by Jake Burgess

+ Follow
[embedded content]
The vast majority wedding industry artisans have not been 'feet-up furloughers,' they have fought, flexed and campaigned to the point of exhaustion and beyond.
When Karianne, founder of Bespoke At Littleton Manor Farm , contacted me to get involved in a collaborative shoot I had to fight my instinctive reaction to say "I'm too tired" to cover up the 'drought' that I think a lot of creatives are feeling. However, the cast list read like a   'who's who' of my favourite wedding people, for whom I would walk over hot coals.
There was simply no saying no. It gave me an opportunity to not only rediscover my creative energy but also to check in and see how 2020 has changed the lives of wedding suppliers.
Words by Emma Marshall

+ Follow
Karianne says, "whilst it might seem like an unlikely time to launch a new events space, in many ways the timing has never been better. Couples are still wanting to get married, however, with some venues now fully booked for the next two years, not only are we able to offer a flexible solution, but also the rare opportunity to create something completely unique from the ground up."
The inherent purpose of the shoot was much as it would have been be pre-Covid; to showcase this newly launched 'blank canvas' event space. Critically for the current climate this vast and flexible space is perfect for socially distanced events and able to be designed to   reflect a couple's style and personality.
Photography by Benjamin Wheeler

+ Follow
As there is a lack of available dates at popular venues, as two wedding seasons merge into one, it puts the possibility of peak season Saturdays back in the calendar. It also gives couples that don't have outside space the chance to have a quintessential marquee wedding.
As travel bans persist, Karianne and Clare of Turmeric House decided to bring Tuscany to the Surrey Hills. The venue is also a working equestrian centre, so classic livery and saddlery informed the natural raw materials used in the venue and event design. Leather, wood and amber tones with verdant fresh hops were heaped on to tables lavishly styled with late summer and early autumnal tones.
A frame tent fronted by two Chinese hats from Inside-Outside Marquees sat atop the hill with views of the rolling countryside dotted with horses and picture-perfect cottages. Flawless cream carpets, chandeliers and clear sides give a sense of luxury. Warm and inviting, even if the British weather says otherwise.
Iain Booth, MD of Inside Outside , knows with the unpredictable nature of the British climate powerful heating is essential so not only does the space look warm and inviting it is cosy and romantic. Marquee weddings are a perfect choice for smaller weddings where an intimate but safe environment is essential; "Blank canvas marquees are so adaptable but it is so important to consider practicalities so you can create a safe sturdy base and then let your inner stylist go crazy!"
Community, collaboration and creativity were always a preferred way of doing business in the wedding industry, post Covid they are essential.  Emma Marshall, Miss Bush Bridal
An alfresco dining space, outdoor bar and woodland snug area were furnished by Louisa Grace Interiors and style to match the 'indoor' space. Festoon lighting was expertly placed by Lighting with Intent, creating separate hideaways for cocktails, coffee or sophisticated tapas and canapes.
Claire, owner of Louisa Grace, falls into the category of many business owners and "fell through the cracks for all government assistance, I had to up our game and concentrate on other areas of our business, work on our online presence and expand our hire options providing 'wow' items for weddings and events."
The rustic trestle tables, vintage chapel chairs, rugs and hides, worn leather sofas and vintage armchairs are all from Claire's treasure trove.
Mad Lilies owner Ali interpreted the design brief in her own inimitable style, "The brief was to bring Tuscany to the Surrey Hills, but I still wanted to add our British twist." Seasonal and locally sourced flowers are very much at the heart of the Mad Lilies aesthetic.
The arch and table were draped in fresh Kent hops. The season for fresh hops is very short. For a September wedding they are an incredible and original foliage option.
The Tuscan theme segues seamlessly into an Indian summer colour palette.  Dahlias in Cafe Au Lait, marsala and coral, roses in toffee and caramel, biscuit Amaranthus and heavenly scented chocolate cosmos gave a rich, bold depth to the florals.
Whilst event floristry has been non-existent, Mad Lilies have developed an incredible home delivery service for their clients, self-gifting flowers was   an affordable luxury in lockdown and no wedding, however tiny, is going ahead without a bouquet!
Emily from Two Many Cooks designed a menu in keeping with this season's scaled down events. "I am finding with fewer numbers, couples are treating their guests to more luxurious choices."
The Tuscan theme demanded rustic Italian flavours "figs, truffle oils, fresh cheeses, homemade pasta cured meats… our clients love crowd pleasing, bold flavours and visually these worked perfectly with the design brief. Sharing platters for bubbles and households, the impression of abundance but very safely served."
The glorious, semi-naked cakes from Dotty Rose , smothered in buttercream, drizzled with caramel and laden with seasonal fruits, keep the tradition of a decadent wedding cake but also serves as a desert.
Rebecca, founder of Dotty Rose is still being asked for the show stopping centre piece, the iconic symbol still very much on a couple's 'must-have' list.
Like so many wedding professionals, Rebecca's income vanished overnight, and home schooling took over from baking. Now with the kids back in the classroom Rebecca, like so many, can "refocus and adapt to clients' changing needs."
Stemware, plates and linens from Couvert Hire add to the casual luxury of the eclectic dining design. Amber tea lights, mother of pearl handled cutlery, insouciantly knotted napkins and speckled trattoria plates all add to the honeyed ambience.
Isobel from Couvert echoes the sentiment of many of the team, couples are treating themselves to a little indulgence, even for intimate home dining.
Stationer Louise, from Lou Paper, signature style was perfect for the Tuscan brief.   "I love playing with layers, textures and mixed materials."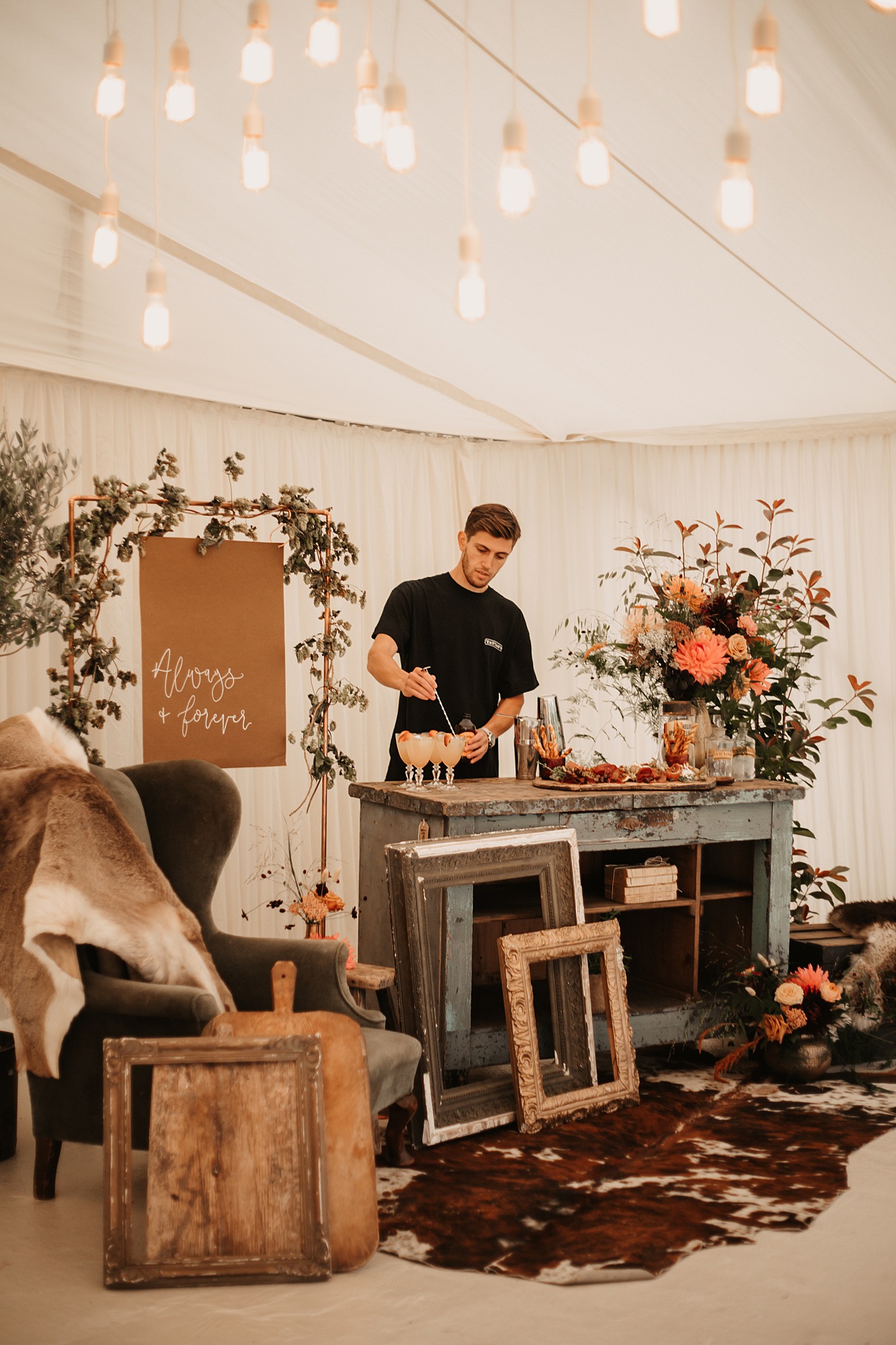 Using muted, earthy tones, refined typography and hand calligraphy on vellum and leather, the stationery had boldness and delicacy in one.  Louise channelled her huge creativity acknowledging; "it's hard not wallow and reflect on what should have been my busiest summer but this shoot shows how the wedding community really supports each other, can rally and has incredible levels of creativity."
Comfort and versatility are not the first adjectives you think of when you think bridalwear, but they are top of so many brides' lists. Covid has accelerated and exposed so many cultural changes that bridal style was inevitably going to be impacted.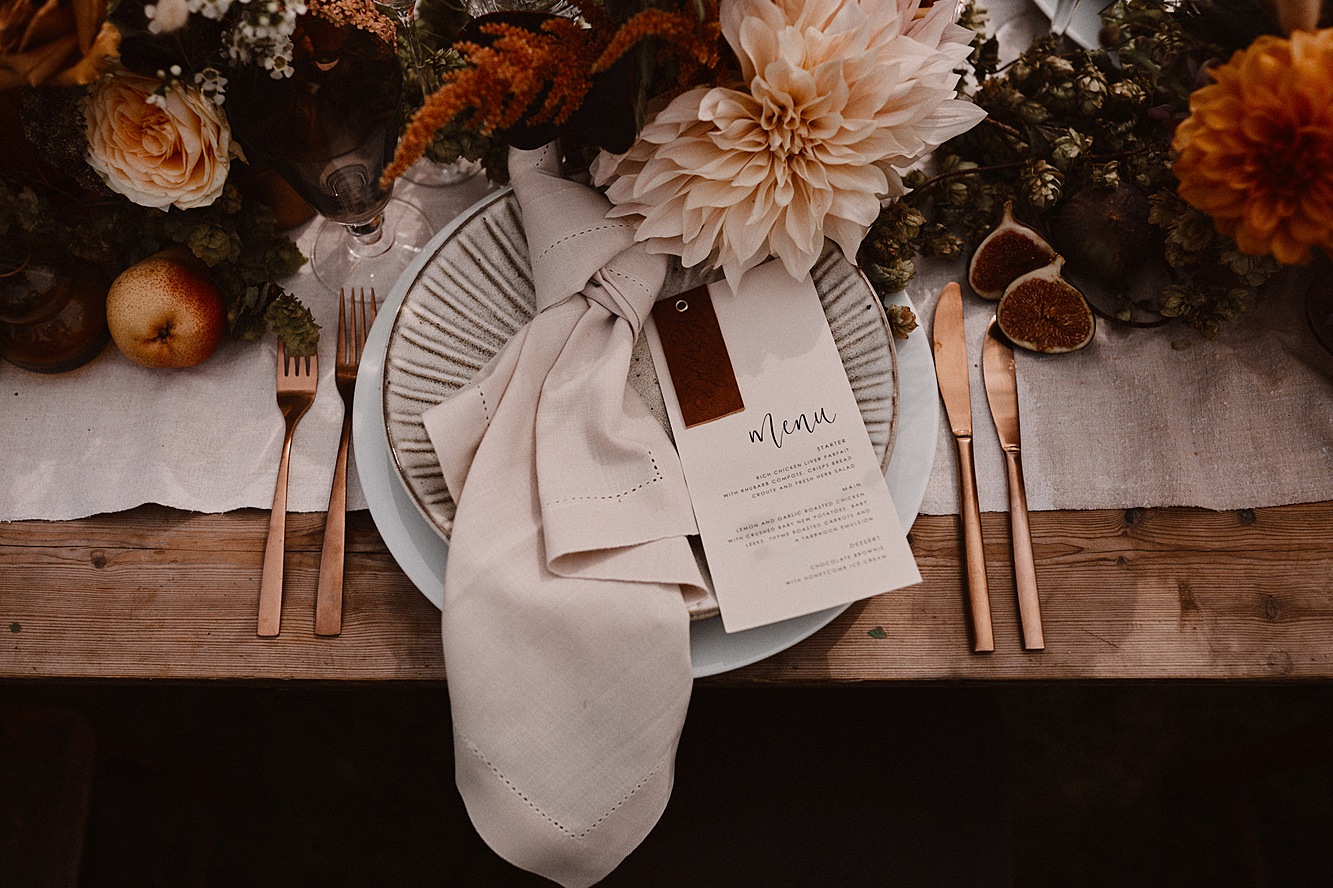 Exceptionally odd, from a fashion perspective, is that the white-hot trends that should be blazing a trail on Instagram and Pinterest are on ice. Bridal fashion changes by nano influencers, every friend of a friend you see tagged on Facebook at a wedding changes ones perspective of bridal fashion.
I have new visiting brides that find it weird that they can't find a favourite dress online on a 'real' bride. One whole season of early adopters wearing wrap skirts, palazzo pants, textured taffeta, statement sleeves and ruffles have gone unseen.
For the shoot I picked 2021 season Jesus Peiro separates from our boutique, Miss Bush Bridal . A three piece bustier, kimono jacket and palazzo pant (style 206) a sleek bias cut crepe skirt (from Style 918), a deconstructed tulle skirt (from Style 213,) a Roxy Music-esque architectural shouldered top (from Style 236) , backless beauty of a top from Style 217) and an angora knit customised with an ad hoc metre of silk ribbon from the florist's box!
All these pieces are available to order on very quick turnaround, are endlessly adaptable and can find a place in a bride's wardrobe well beyond the wedding day.
The provenance is perfect, there is no upper or lower size limit and the designs are infinitely flexible. It is this kind of adaption that the brightest and the best of the wedding trades are demonstrating.
I added statement veils from The Couture Veil. Tuscan weddings conjure the vision of heavy lace veils, dramatically framing the bride's face. I also added a frothy bouffant veil, in my mind very 60s Italian and earrings from Miss Clemmie.
Melissa Oldridge and I discussed hair and make-up looks based on the model Phoebe's uncanny rock star royalty looks. A former professional model and recent 1 st class honours graduate, Phoebe's strong beauty and intelligence shone. It's always good to get a little crush on your muse and Melissa created two looks; "I love to focus on a dewy base and used Charlotte Tilbury products to enhance her incredible bone structure."
The 'undone' curls were a perfect expression of the freedom of simply existing outdoors and the looks were strengthened with a deep plum lip for an evening switch up that that added depth and little rebellion to the look.
Confessional conversation in the make-up chair is not new to 2020, and although Melissa describes her year like experiencing the five stages of grief, it has "expanded our sense of community, encouraged candidness and taught us not be ashamed of our emotions."
Photographer Benjamin Wheeler , a favourite of British brides, has come to national attention capturing the most intimate Royal wedding. Princess Beatrice & Edoardo Mapelli Mozzi's low key celebration was the perfect illustration that small does not mean sacrificing one's personal style. A priceless vintage dress, the family jewels, outstanding florals and a brilliant photographer are as important for 30 people as they are for a global audience.
Despite such a high-profile commission, Benjamin, like so may creatives has had a difficult year. Knowing the incredible resilience of the wedding industry, its willingness to adapt and the depth of talent is keeping him full of optimism; "my passion is kept burning knowing I have so many beautiful weddings waiting in the wings."
Ben's second shooter Emily, of Emily Rose Photography , gives an insight into how Ben's creative process works. The brief was  "to capture a mix of editorial shots;   movement, emotion using a warm colour palette to evoke Tuscany and to tell the story of the day."
Emily's story is very familiar, a year's earnings lost, and a job taken in a hospital to supplement her income. Her words ring true for all wedding professionals   "it was so incredibly refreshing to be able to get creative and do the thing I love with a truly wonderful and talented team after a really tough few months for us all."
Filmmaker Jake Burgess  has also seen a significant increase in demand for videography, couples want to share a truly 'in person' feeling through film for their extended friends and family who can't attend scaled back weddings.
Community, collaboration and creativity were always a preferred way of doing business in the wedding industry, post Covid they are essential.